Although the developer Android version was released a few months ago, on June 11, Google unexpectedly released Android 11 Beta for users. smartphone with certain test models. Today I will Summary of all new features disabilities Available on Android 11 Beta version.
According to the information I learned, Android 11 will have many significant upgrades compared to the current Android 10 version. The first change is the main screen interface.
Home screen
On the main screen we will see a row of suggested application icons at the bottom of the screen. These suggested apps will have a different color for easy identification compared to the rest.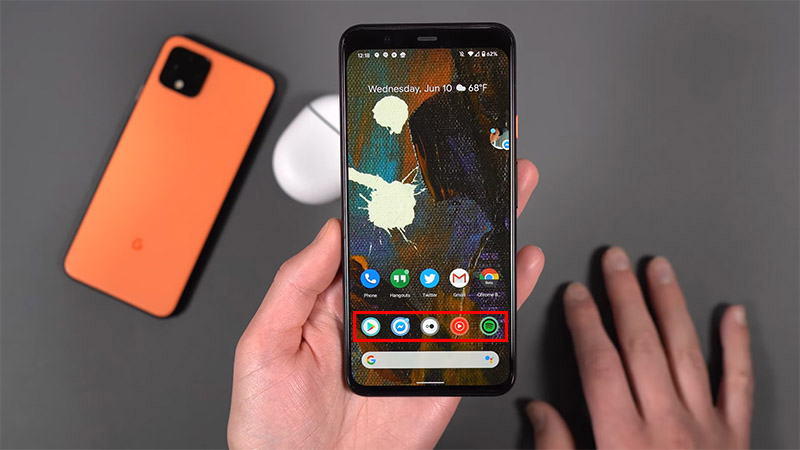 Proposed applications will be marked with an outer blue border. (Source: Droid Life)
You can pin frequently used applications here to be able to open applications faster.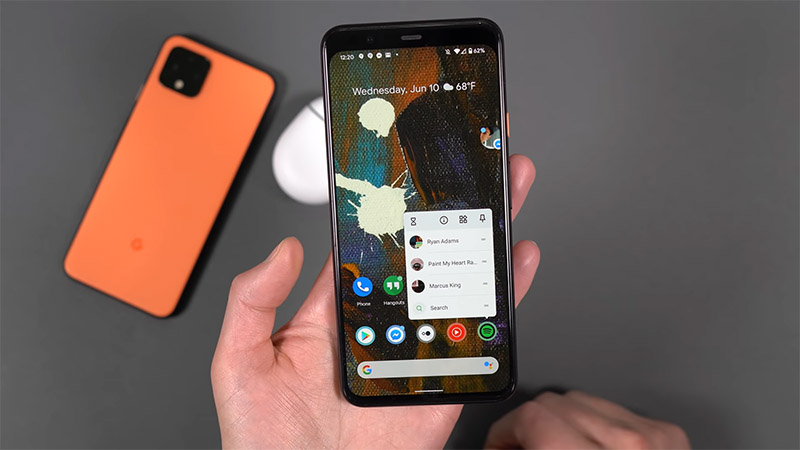 We can pin apps to make everyday phone use more convenient. (Source: Droid Life)
New multitasking feature
In Android 10, when in the multitasking interface, we will see the proposed applications. In this version of Android 11, we will no longer see those suggested applications. Instead there will be 3 shortcuts to take screenshots, select text and share.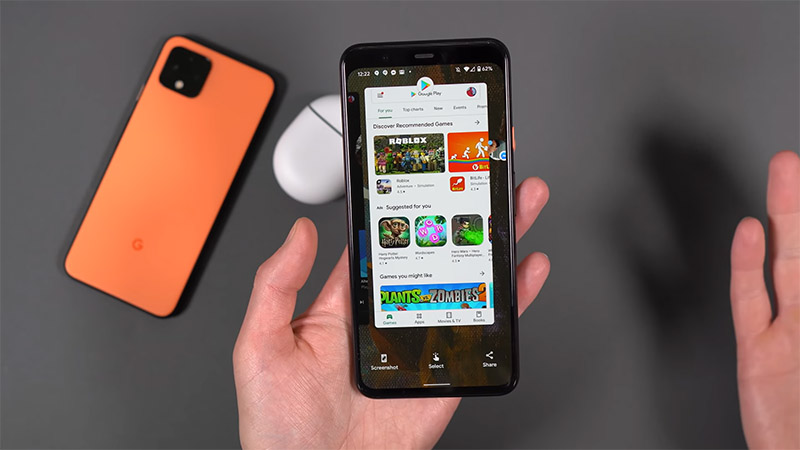 Multitasking window no longer has the appearance of the previous proposed application. (Source: Droid Life)
The select feature, which I think is not really useful, because no one goes to select a text while in the multitasking window.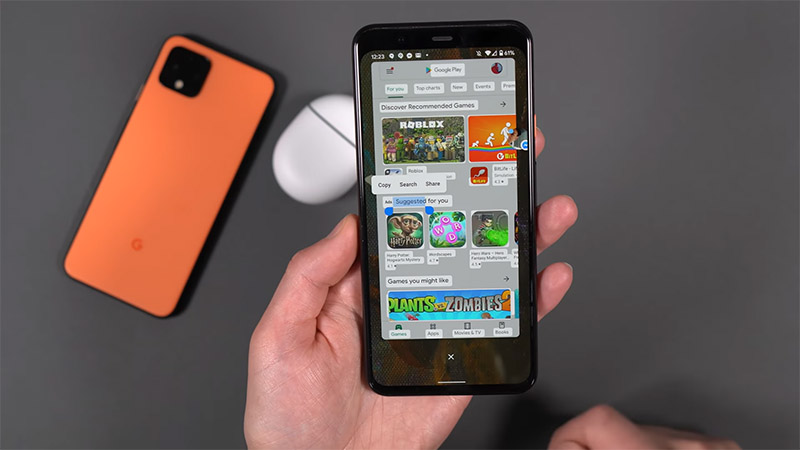 The select feature on Android version 11 Beta. (Source: Droid Life)
In addition, in the multitasking window we also have screen capture feature placed in the lower left corner of the screen for users to easily manipulate. When you click on this icon, Android 11 will take a picture of the application being displayed in the multitasking window, which is convenient, right?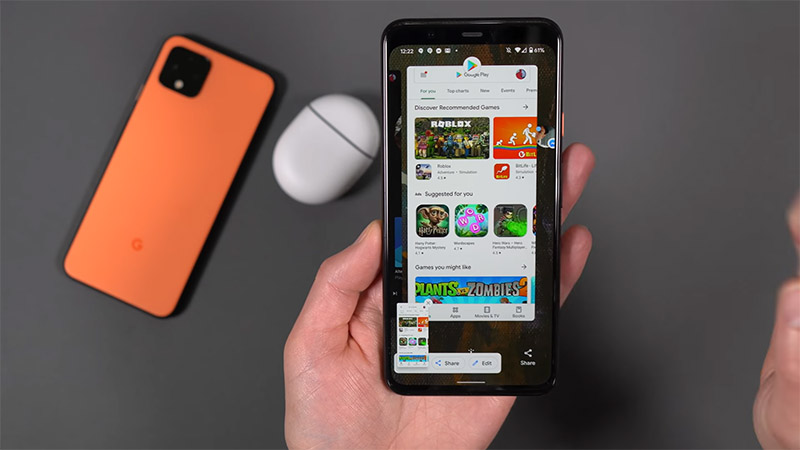 New screen capture feature on Android 11. (Source: Droid Life)
In addition, when taking a screenshot, a small image will appear in the lower left corner of the screen, which we can edit or share immediately without having to go to the photo library. to review the picture just taken.
Record screen video
Although this feature is not new to many users, it will be brand new to users Android root when Google built in.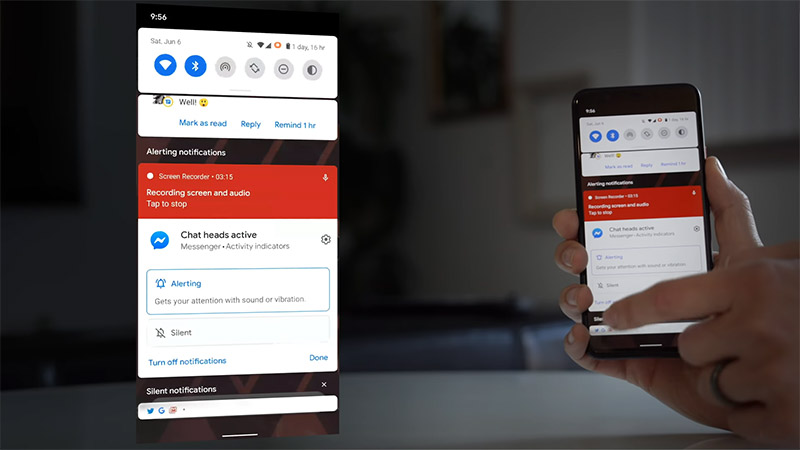 Screen recording has officially appeared on Android 11 without 3rd party applications. (Source: The Verge)
This screen recording feature on Android 11 is the same as on other smartphone brands Xiaomi, Samsung, OPPO. Allows video recording without audio or sound just has shown the screen cursor.
New notification bar
The status bar on Android 11 is designed to be more intuitive, with two sections for the notification area for messages and the area for other notifications.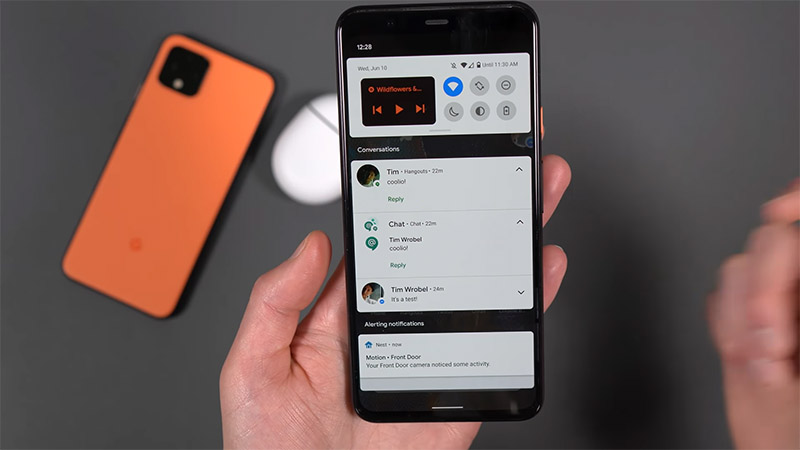 The new notification window is divided into two sections "Conservations" and "Alerting notifications" so that users can easily receive notifications. (Source: Droid Life)
Any app that has an incoming message is included in the notification section for the message so that users can easily check the message without missing any chats.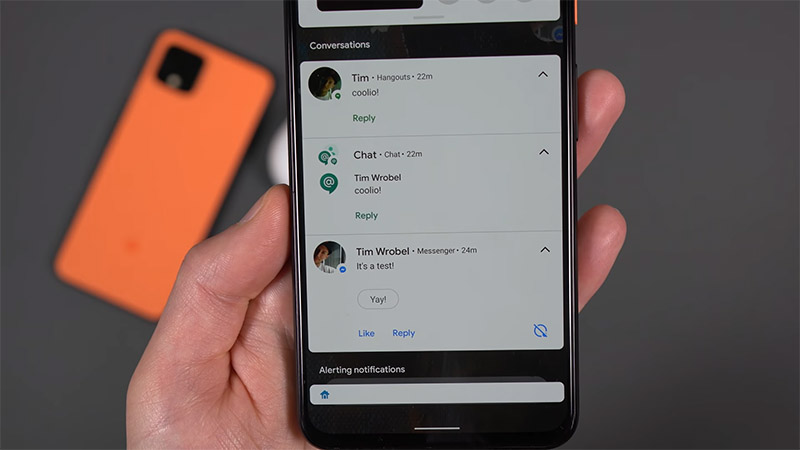 Users can scroll down to quickly see the content of incoming messages in the separate display for messages. (Source: Droid Life)
Another new feature of the notification bar is the media display for audio. If in the previous Android version, when we play music, the status bar will take up some space and push other notifications below.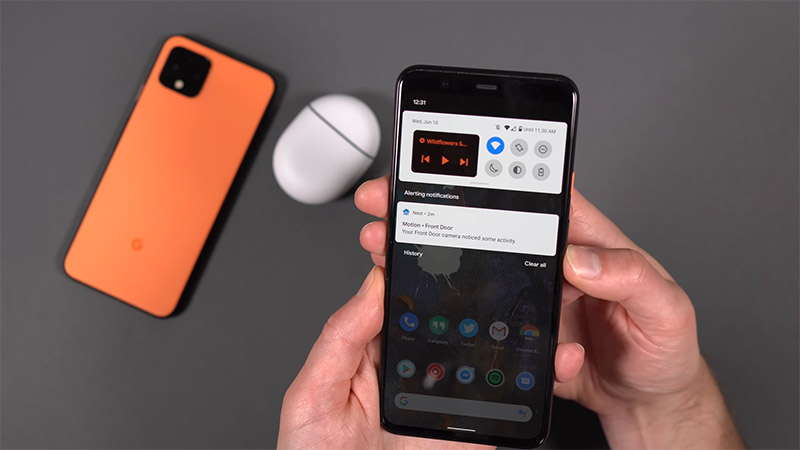 Music bar is included in the status message. (Source: Droid Life)
However, in this version of Android 11, the control panel for the media will be included in the status bar. I find this method quite good, everything is neatly organized and tidy to help us easily manipulate. Especially this new notification item will not take up the display space of other applications.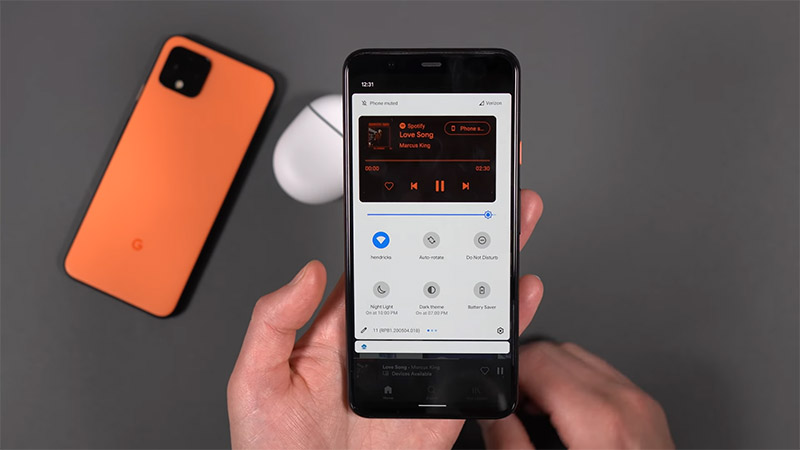 When scrolling down the notification bar the sound will expand for users to operate faster such as fast forward or skip to the next song. (Source: Droid Life)
If the smartphone is connected to peripherals, then clicking on the top of the audio notification bar will display a dialog box for users to easily switch music devices.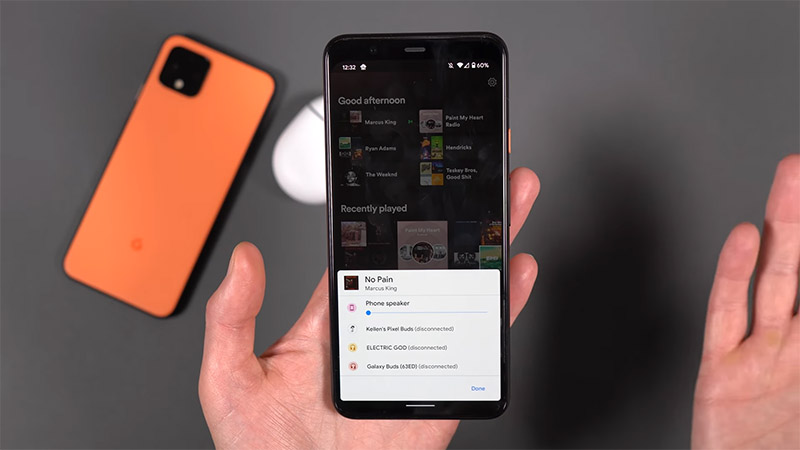 Window external audio devices connected to smartphones so that users can quickly switch while listening to music. (Source: Droid Life)
Control smart home
This is a completely new feature that appears on Android 11, to use this feature users need to use Google's smart home appliances such as lights, fans, smart air conditioners, …
Users only need to press and hold the power key for about 3 seconds to open the control panel for this feature. Familiar shortcuts such as power off, reboot and emergency are designed in a horizontal bar with a prominent red border on top.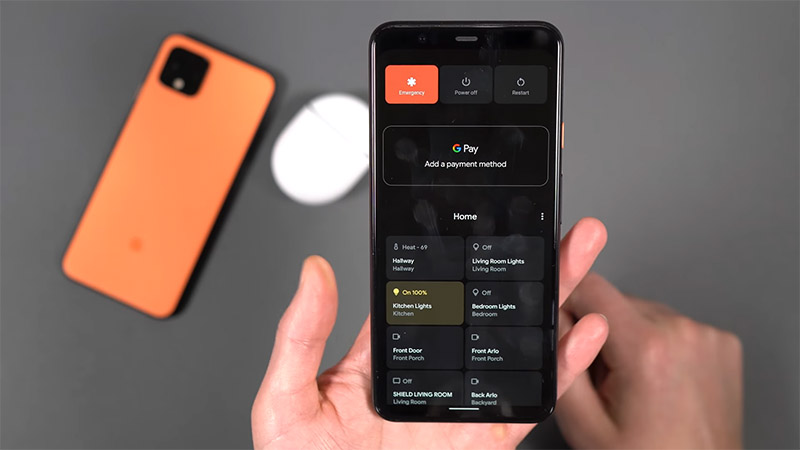 Function keys such as power off, restart, or emergency are placed on the top and lined in horizontal lines. (Source: Droid Life)
Below is a control panel of smart home devices. This feature is quite good and handy, users only need a smartphone with an internet connection to be able to control the whole house is convenient, right? This feature is controlled through the Google Home app, when it is connected to the internet, it scans the entire house to see if there are any smart home appliances in your house.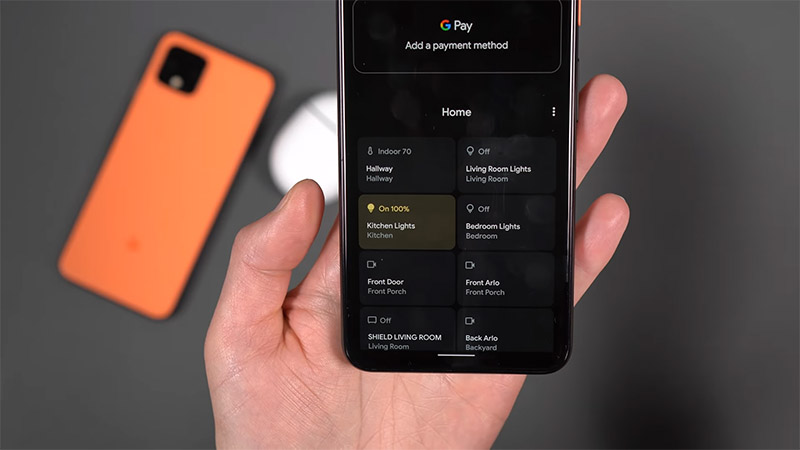 Easily control smart devices in the house with just one smartphone. (Source: Droid Life)
Unfortunately, smart home is still not really popular in Vietnam and we will not need too much on this feature.
Dark Mode feature added
The dark theme has been around for a long time, but on the original Android versions it lacked an important feature of scheduling the dark theme. With Android 11, you can customize the time to turn on and off the Dark mode to suit individual needs.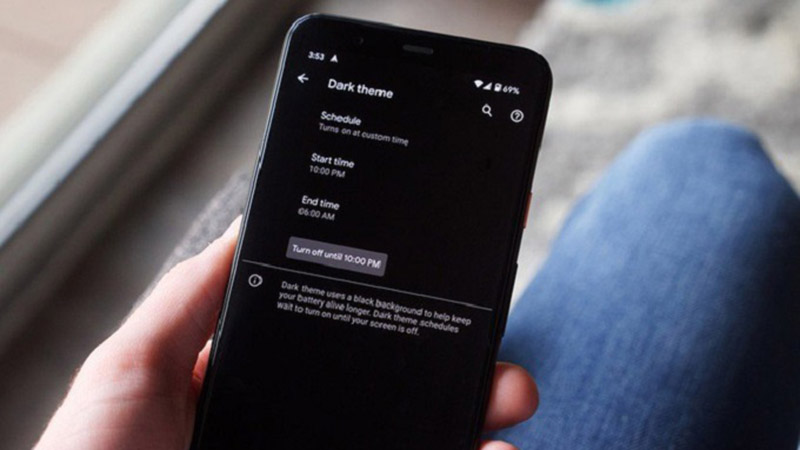 Dark mode has added timer function. (Source: Android Central)
In the settings for the dark theme, Android 11 will be divided into 2 parts: the start time and the end time. You can freely customize to your liking, too convenient right.
Customize application icons to your liking
With Android 11, Google emphasizes personalization so it allows users to customize everything on this Android version to their liking. Customizing the application icons is one of them.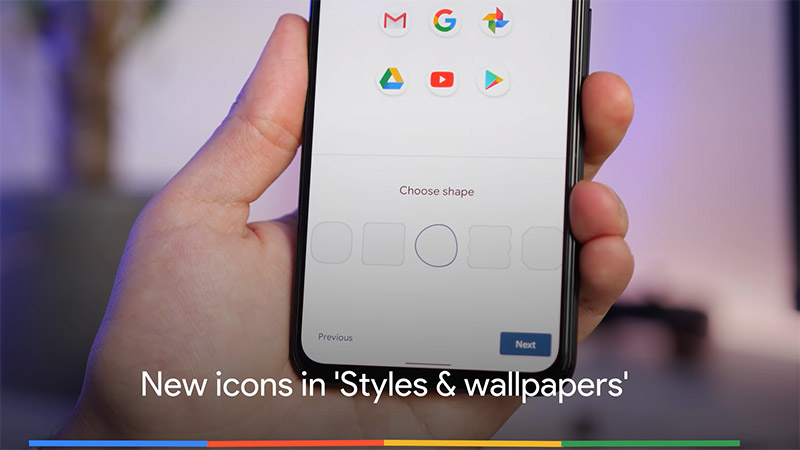 Users can freely customize application icons in their phones with Android 11. (Source: 9to5Google)
This version of Android 11 provides a lot of different icon templates for users to freely choose. Users can customize the color, shape and style of icons.
Chat bubble
This feature has been available on Messenger and Zalo for a long time, but until now, Google has officially brought chat bubbles to this version of Android 11 Beta.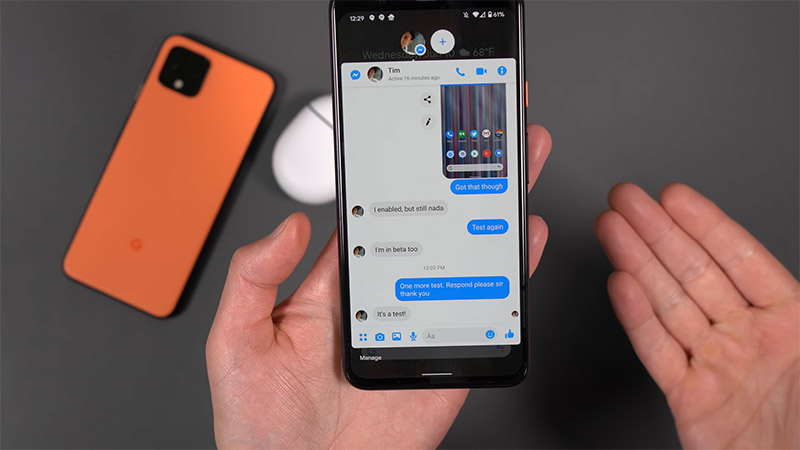 Familiar chat bubble feature is officially available on Android 11. (Source: Droid Life)
This feature helps you seamlessly respond and engage in important conversations without having to switch apps constantly. You can open a chat bubble for a conversation right in the notification area so you don't miss important information.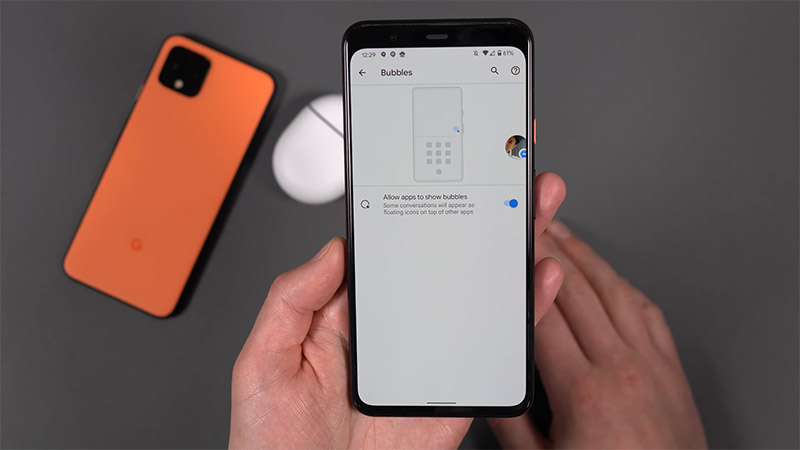 Settings section is dedicated to the chat bubble feature, users can select the application to use this feature. (Source: Droid Life)
Optimal security
In terms of security, Android 11 version allows users to better manage when granting access to applications. For applications that require personal information of users such as cameras, microphones, location … access is only allowed once. Access will be revoked and a request will be re-authorized on the next application run.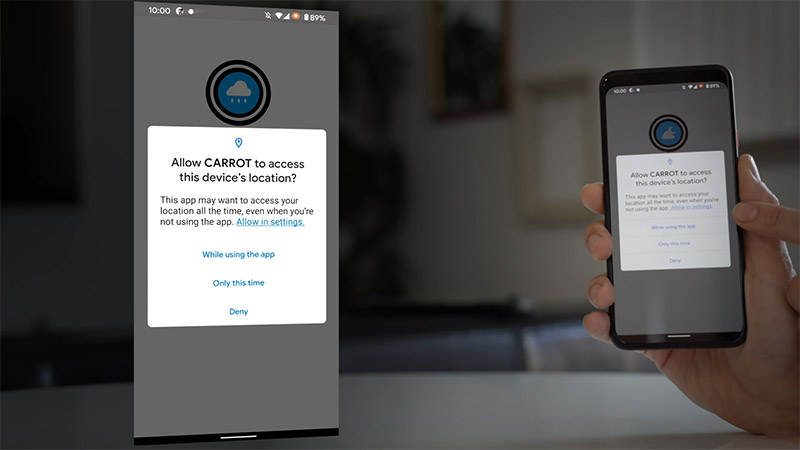 Location sharing feature once will help your device get better security. (Source: 9to5Google)
The devices are supported
According to some sources that Google will officially release Android version 11 next fall and specifically in September. But we have to wait for the official announcement from Google to know the exact time. Because the situation of the Covid-19 epidemic is still complicated in the United States, we do not know anything at all.
Samsung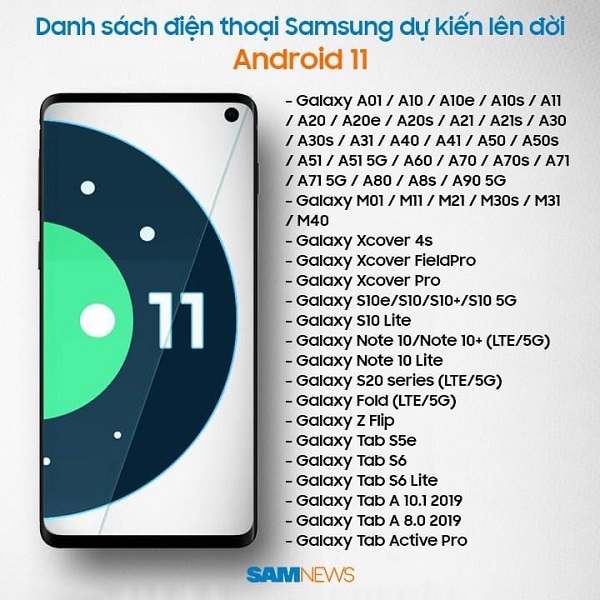 Expected list of Galaxy devices for Android 11. (Source: Samnews)
Google
Google Pixel 2 / 2XL.
Google Pixel 3 / 3XL.
Google Pixel 3A / 3A XL.
Google Pixel 4 / 4XL.
Xiaomi
Mi 8 / Mi 8 Pro.
Mi 9 / Mi 9 Pro /Mi 9T.
Mi Mix 2 / 2s.
Mi Mix 3.
Mi Mix Alpha.
Redmi Note 7 / Note 7s / Note 7 Pro.
Mi Note 10/Note 10 Pro.
Redmi Note 8/Note 8 Pro.
Redmi 7/Redmi 8.
Redmi K20 / K20 Pro.
Redmi K30 / K30 Pro.
Huawei
Huawei Mate 20 / Mate 20 Pro / Mate 20 X.
Huawei Mate 30 /Mate 30 Pro.
Huawei P20 / P20 Pro / P20 Lite.
Huawei P30 / P30 Pro /P30 Lite.
Huawei P40 / P40 Pro.
Oppo
Oppo R17 Pro.
Oppo Find X.
Oppo Reno/Reno 10X Zoom.
Oppo Reno2/Reno 2 F.
Oppo Reno 3/Reno 3 Pro.
summary
Android 11 Beta brings new changes that make it easier to use smartphones such as video screen recording, customizing the interface according to your preferences, better security with location sharing feature once, … Currently users of Pixel 2 and above can sign up for the Android 11 Beta program here to experience the great features of Android 11.
Do you like this version of Android 11 Beta? If yes, leave a comment about your favorite spot below the comment section.