5% coverage at printer specifications? Do you know what this parameter means for the printer? Let's see this article to answer this question!
1. What is the term "5% coverage"?
5% coverage is a measure of the international standards organization – The International Organization for Standardization test and release with the purpose of helping users understand the specifications of printer.
Print page coverage provides information that guides you on the maximum number of pages the toner cartridge can print.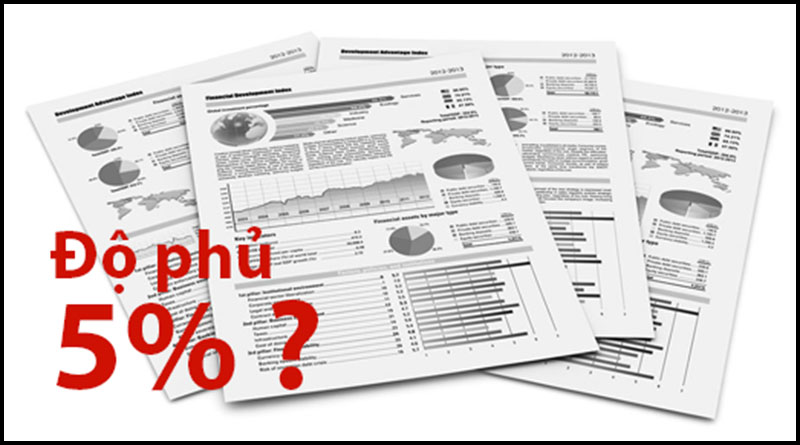 Printer manufacturers will rely on this standard to figure out how many pages and how many sheets their printer can print.
2. The meaning of "5% coverage" in printing
To better understand the specifications, please see the following example!
If the printer has to print about 800 – 1200 pages A4 with 5% ink coverage:
– You only print plain Word and email documents, you get the word 800 – 1200 pages.
– In case of printing a lot of documents every day including images or text but the density is thicker, the number of printed pages will be less.
An A4 sheet of paper with 100% coverage will be completely covered with ink like blacking the entire A4 page. Thus, with the number of pages printed from 800 – 1200 pages, the ink coverage on A4 page only accounts for 5%, is a normal page of text that we often print to use.
Note: But its figures are only approximate because the actual number of pages printed will depend on many other factors.
3. A few ways that can help your print cartridge last longer
– Set your printer to print mode when you need to print draft documents, preview or for internal use.
– Store documents on the machine if it is not necessary to print.
– Check the error before printing, avoid reprinting many times.
– Regular printer maintenance.
– Depending on the needs to use that you choose the right printer.
So the article has answered you about 5% coverage as well as its meaning. Hope to help you.