The online shopping platform is growing day by day and many people start up and succeed from selling online with the effective help of the mobile phone. smartphone. So should you buy a phone? Vivo Y33s to sell online or not? Try to find out what!
1. Vivo Y33s phone overview
Screen: IPS LCD, 6.58 inches, Full HD+.
Operating system: Android 11.
Rear camera: Main 50 MP & Secondary 2 MP, 2 MP.
Front camera: 16 MP.
Chips: MediaTek Helio G80.
RAM: 8 GB.
Internal memory: 128 GB.
SIM: 2 Nano SIMs, support 4G.
Rechargeable batteries: 5000 mAh, 18 W.
Vivo Y33s officially launched in Vietnam in December 2021, with an impressive appearance in both design and configuration.
The product is equipped with the same plastic shell Slim design, flat, slightly curved edges for a very comfortable grip. The outstanding camera cluster on the back and front is 6.58 inch screen The borderless design along with the waterdrop camera gives a very good experience space, the display colors are bright and beautiful thanks to IPS LCD panels and Full HD+ resolution.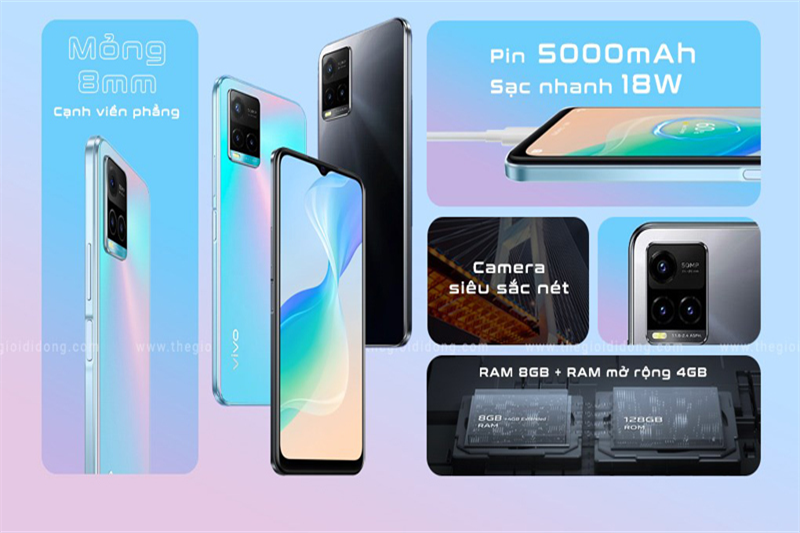 Overview parameters of the phone Vivo Y33s
Smooth performance thanks to the power of chips MediaTek Helio G80 8 coresGPU Mali-G52 MC2 and 8 GB RAM help Vivo Y33s Lightly weigh popular hot games like Lien Quan, PUBG,… at a high graphic level.
This version Vivo also enhanced battery capacity up to 5000 mAh comfortable for livestream needs, interactive online sales on the device or for other basic needs throughout the day.
2. Highlights of Vivo Y33s phone suitable for online sales
Stable configuration, good multitasking, good storage
You need to store a large amount of product images, need to edit images, interact regularly and continuously on the phone screen, then you need a smartphone with good configuration to ensure smoothness in operations. swipe touch, scroll screen, switch application window,…
Vivo Y33s possesses the power of MediaTek Helio G80 8 cores and GPU Mali-G52 MC2 is a good performance chip on gaming smartphones, so the operation on the phone will be fast and accurate with low latency, besides there is also the contribution of 8 GB RAM. Thanks to that, touching the scrolling screen to find or upload photos, online sales advice will be faster and more accurate.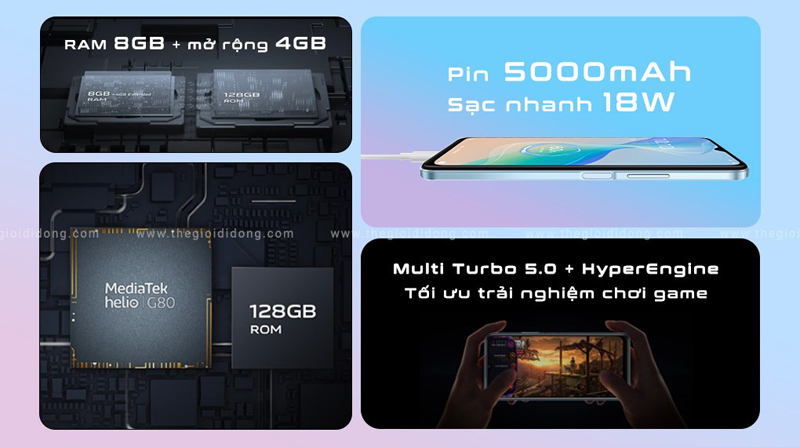 Stable configuration, good multitasking, good storage
Phone has ROM 128 GB, good storage for your sales image inventory. If the need is even greater, you can use MicroSD memory card support up to 1 TB.
Quality camera
Camera is an important part on a smartphone for sales needs, including take a photo, interactive live stream directly on the device.
Vivo Y33s has a main sensor camera cluster 50 MP specializes in night photography, depth measurement camera and macro lens are 2 MP produces photos with high detail, highlights and shadows are reproduced accurately, making photos more realistic with beautiful colors.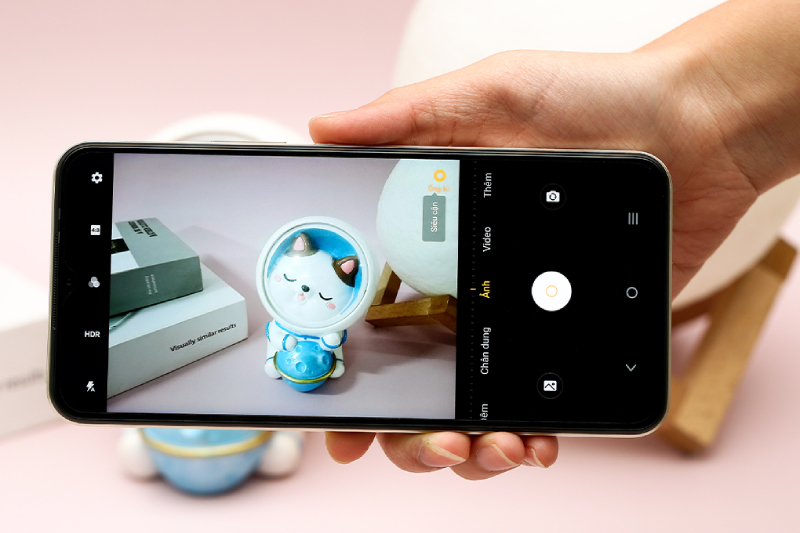 Vivo Y33s is equipped with a quality camera system
16MP selfie camera brings smooth image quality, recording movies in low light conditions is quite good.
With these parameters, it is not difficult for you to beautify your sales products, honestly express the details of goods according to customer requirements, but also feel comfortable and confident when livestreaming live sales…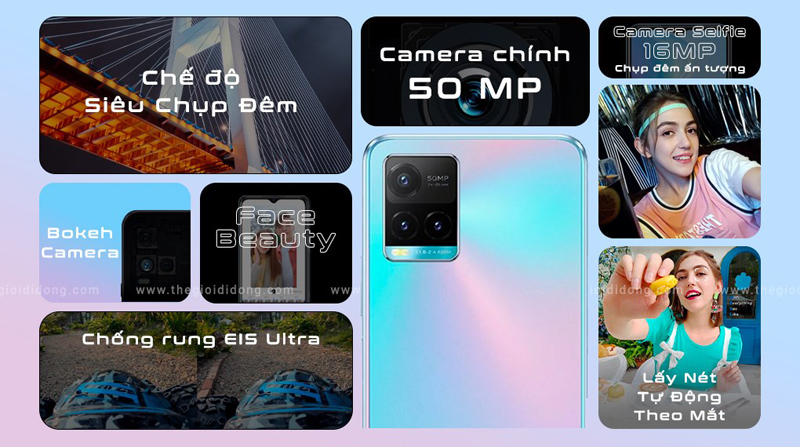 Quality camera for the needs of filming, taking photos, selling online
Battery lasts all day long
Selling online with the need for constant interaction requires a phone with good battery life, avoiding sudden power failure and having to depend on backup batteries that interfere with use.
Vivo equips Y33s with a strong battery 5000 mAhcan be used continuously for up to 2 days with basic needs and do not worry about running out of power when using high frequency during the day.
Phone also support 18 W . fast charge shorten waiting time, Fully charged from 0 – 100% battery only takes about 2 hours 16 minutes quite good with a large capacity battery like on Vivo Y33s.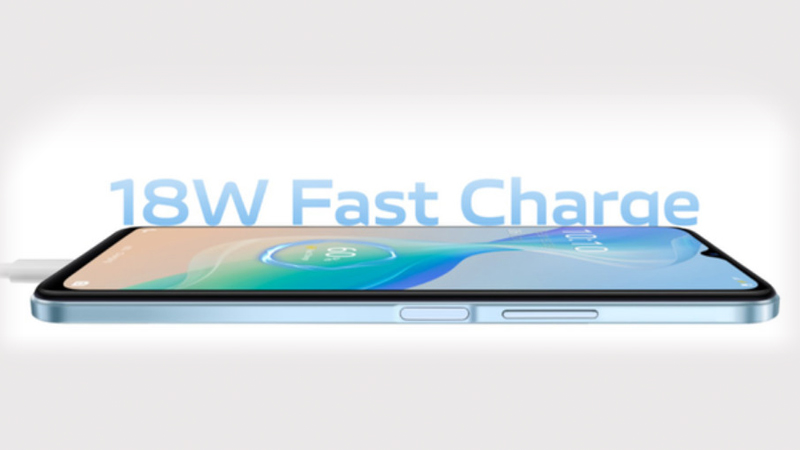 Strong battery, fast charging, meet the needs of using all day long
3. Is Vivo Y33s any good? Should I buy it?
Vivo Y33s has a youthful and attractive appearance with a high-resolution screen. Powerful configuration, good camera cluster both when taking photos and recording movies, comes with a huge battery capacity. This is a phone that meets all the necessary criteria for basic use and online sales.
Most importantly, besides the above outstanding advantages, the manufacturer also includes a affordable price for the product compared to other phones in the mid-range segment.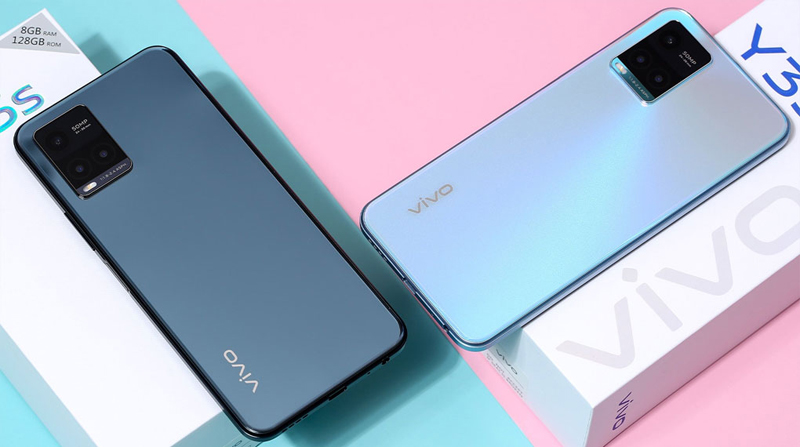 Vivo Y33s is a good choice in the mid-range price segment
Own 3 fashion colors yellow – pink blue – blackVivo Y33s is absolutely the perfect choice to serve online sales along with other basic entertainment needs for customers of all ages.