Youtube Vanced is the Youtube app mod above phone use operating system Android. This application helps block Youtube ads and has more cool features. For example, you can listen to music on Youtube without turning on the screen, etc. Let's learn more in the article Review Youtube Vanced right after this.
Download the new Youtube Vanced version v15.05.54: Here.
Note: the application only installs on Android operating system, without rooting the device.
The outstanding points
Convenient Picture-in-Picture display
This feature allows YouTube Vanced to be displayed on other applications under a small frame, you can surf and watch Youtube while surfing. Facebook or working with other applications is extremely convenient. This feature allows you to not be interrupted when watching videos, while processing a different task.

The program I am watching continues to play when it returns to the main screen as a small window.
You can enable this feature by going to Settings> General and activate Picture-in-picture lines.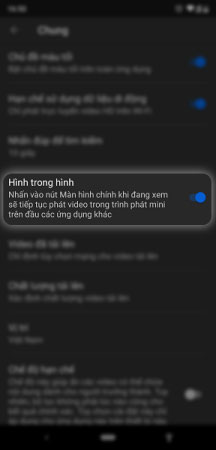 How to turn on Picture-in-Picture.
Listen to music on Youtube without opening the screen
Today's trend people often like to listen to music on Youtube because of the abundance of music on this platform. But the biggest weakness that I see when listening to music on Youtube is that users have to open the phone screen to always light, which causes the battery to drop very fast. But that is only the past when Youtube Vanced.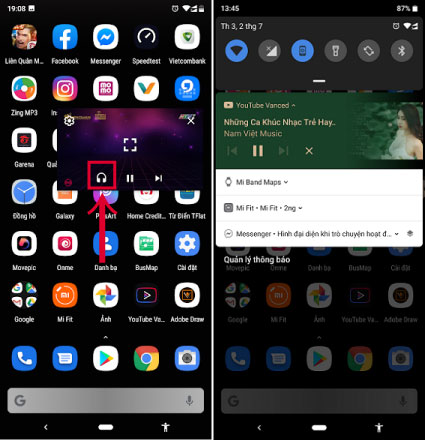 After pressing the headphone icon, the video immediately disappears but still plays the audio, only displayed on the notification
I performed a test of the battery consumption of the original YouTube and the mod in 58 minutes of listening to music, using a Wi-Fi connection and the same screen brightness. The results show that the battery consumption has a big difference:
Original Youtube: 9%
Youtube Vanced: 2%
So, I think this is a great feature for those who like listening to music on Youtube like me. This feature is both convenient and very economical for the device.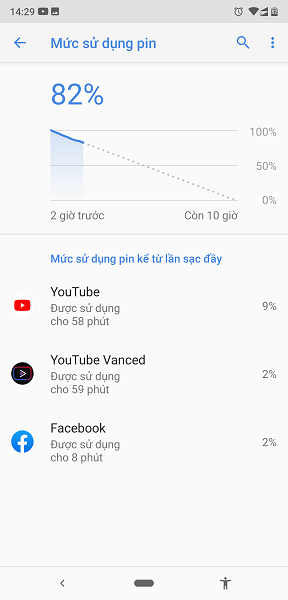 In about 58 minutes, but listening to music with Youtube Vanced only takes 2% thanks to the screen off when listening.
Absolutely no ads
Watching videos on YouTube and appearing ads, is what many users complain about. Usually the ads will be innocuous, but sometimes quite nonsensical or not very positive content. You will no longer have this problem when using Youtube Vanced, the application that allows to turn off ads when watching videos.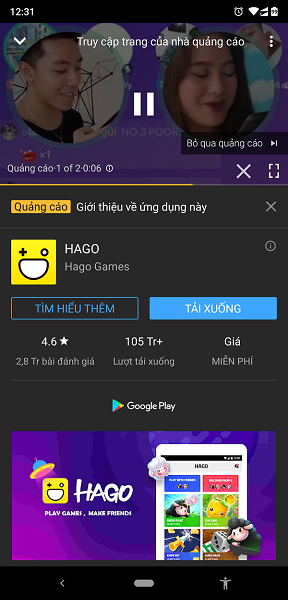 The ad shows up suddenly on the original Youtube video interruption.
Adjust the volume, brightness quickly
In addition to the above 3 features, I am also impressed with the swipe feature on the screen to increase or decrease the volume and brightness. I have seen this feature on a lot of applications, but unfortunately the original Youtube app does not yet have. I can flexibly adjust the sound and screen brightness without the need for a hardware key or pull down the notification bar, just slide my finger directly on the screen.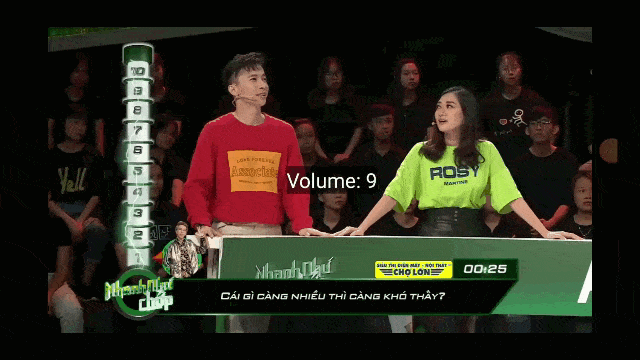 Swipe up and down to the right to increase or decrease the volume and left to increase or decrease the brightness when the display is horizontal.
However, this feature is hidden and needs to be enabled for use. You can enable this feature by going to Settings> Vanced Settings> Wipe Controls Then activate the first 2 lines up. This utility only works when you view video in landscape mode.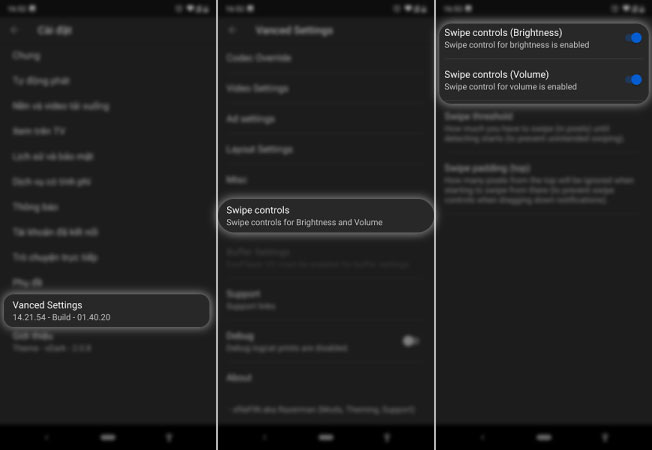 How to turn on swipe gestures.
Limitations you should be concerned about
Complex installation
The drawback of the YouTube Vanced application is easy to see, that the application is not published by Google and not available on the CH Play store. Therefore, we have to install it via the APK file (the installation method we have is at the top of the article).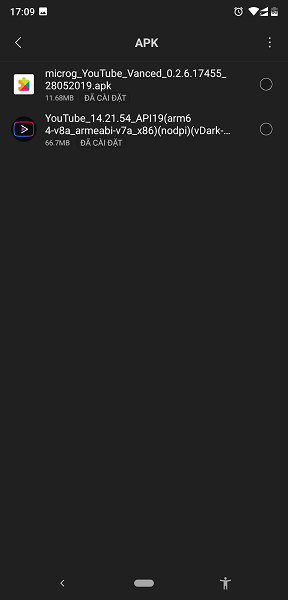 You must have MicroG installed before you can sign in with your Google account.
Need other widget to sync Google account
We have to install another utility, MicroG, to synchronize Google account on Youtube Vanced in case you want to revisit your watch history and registered channels. This makes me worry that using this app will affect my data security. But after a period of use, absolutely no trouble with your phone or account at all.
Disrespect for content creators on YouTube
Watching videos on Youtube with ads can also be seen as a way to support Youtubers with a steady income and maintain the production of "clean content" videos. Normally if you do not want to see ads, users have to pay a fee to buy the ad removal feature, but YouTube Vanced is a mod that offers this feature for free, and that makes the creators " substance "on YouTube seems to be losing part of its earnings. So we have to think twice before using the Youtube Vanced app or consider re-enabling the ads when using.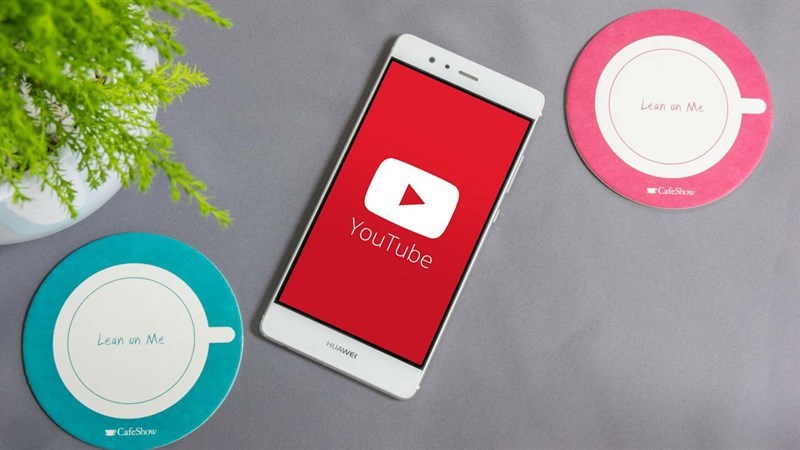 Watching Youube has ads that respect content creators.
Above is my review of the features and limitations that users are interested in on the YouTube Vanced application, there are many other features in this application in the Vanced Settings section, but I think, the features The above are necessary and most used. How about you guys? Leave your comments below!