Before holding the pcs smartphone cheap come from Xiaomi was Redmi 9 I thought that the four camera clusters on this device were just for having, but probably taking good pictures. But after the post on hand and after 1 week of experience, I found that judgment completely wrong. Not only take great pictures, this phone is nothing more appealing, then invite you to discover it right away Detailed review Redmi 9 following.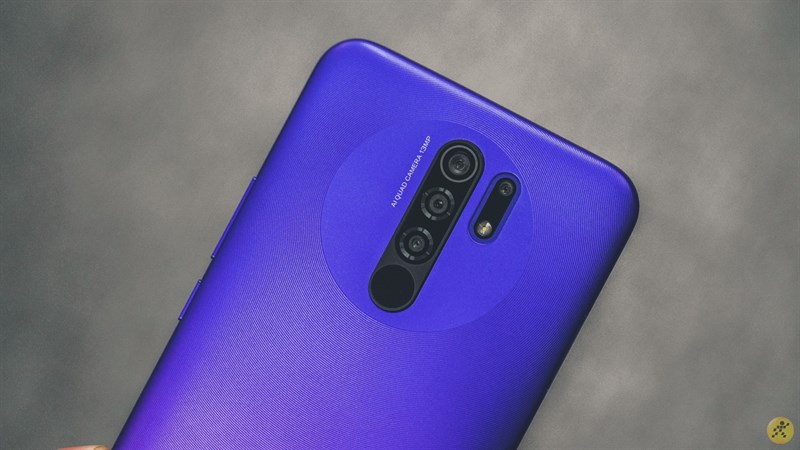 Cluster of 4 cameras on Redmi 9.
See more: On the hands of Xiaomi Redmi 9: Possesses a 4-camera cluster, Helio G80 chip, extremely high battery, has fast charging but only costs more than 3 million
1. The quad camera on Redmi 9 takes great pictures
Firstly, I'll give you a quick review of the quad camera setup on the Redmi 9.
Main camera wide angle, 13 MP resolution, f / 2.2 aperture, 75.2 degrees angle.
Super wide angle camera, 8 MP resolution, f / 2.2 aperture, 118 degrees angle
Macro camera, 5 MP resolution, f / 2.4 aperture.
Portrait camera, 2 MP resolution, f / 2.4 aperture.
And now let's review the photos taken from the camera of Redmi 9.
In bright enough conditions, photos taken from Redmi 9 for sharp image quality, eye fluttering colors.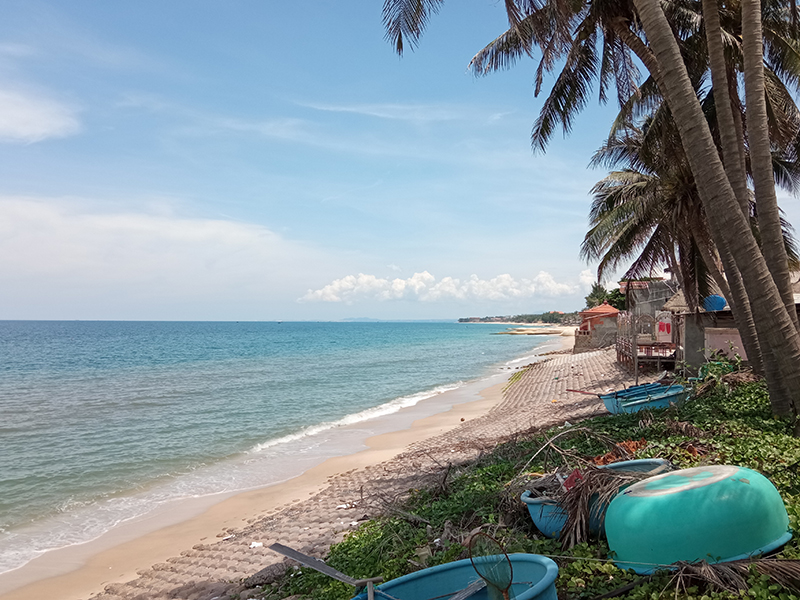 Although it was very sunny at the time, the AI ​​on the device was balanced by reducing the light in the sky and making the sea more blue. Photo taken in automatic mode – Bright enough conditions.
With this photo, because the subject stands a bit far away, when you zoom into the image you will see the subject a bit blurry. But never mind, the natural scenery is still majestic. Photo taken in automatic mode – Bright enough conditions.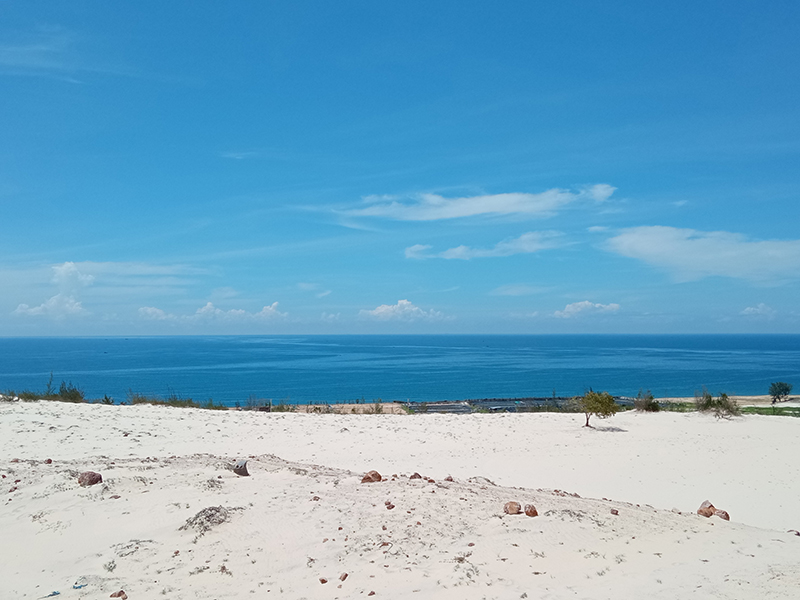 Blue sea, white clouds, fine sand at the foot. Does anyone not stop to look? Photo taken in automatic mode – Bright enough conditions.
In backlit conditions, HDR mode is on, the machine automatically adjusts the background color to reduce brightness and brighten the objects in front.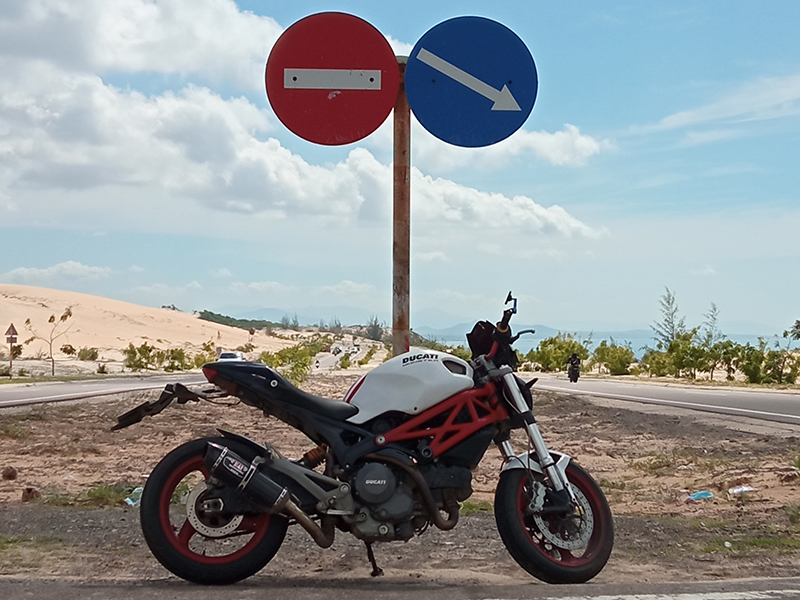 Ducati 795 guys, this one has some toys like, … well. I am evaluating the camera, not the car review. Photo taken in automatic mode – Backlit condition.
The same is true for low light and HDR is enabled. The image will produce a slightly brighter color and balance the light and dark patches together.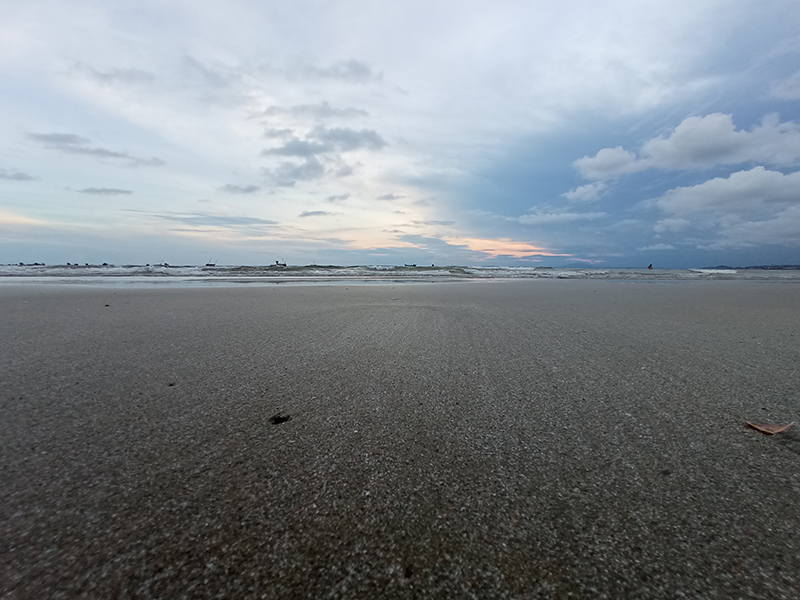 East Sea sand one afternoon after the surf. Photo taken in automatic mode – Underexposed conditions.
Comparing normal photos with super wide angle, I realized that although the main camera has a higher resolution, the super wide angle camera gives more fresh colors.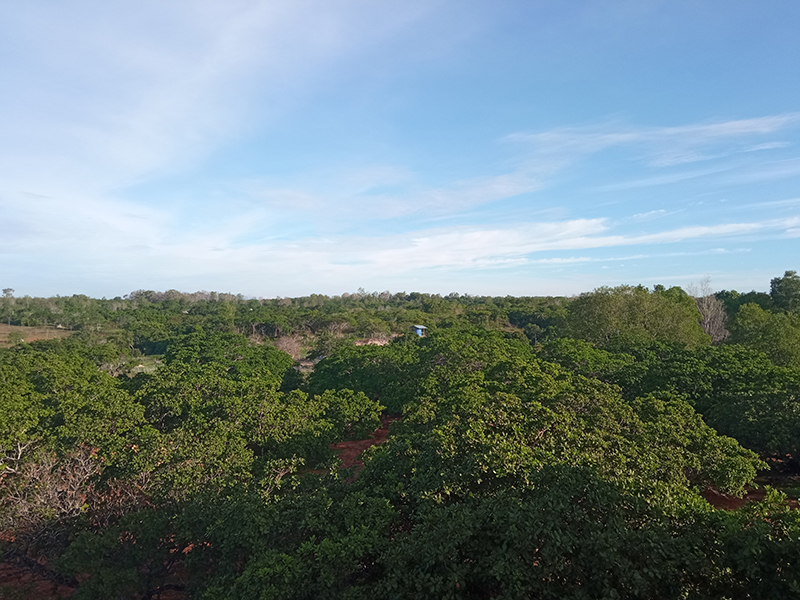 Forest a sunny day. Photo taken in automatic mode, normal angle – Bright enough conditions.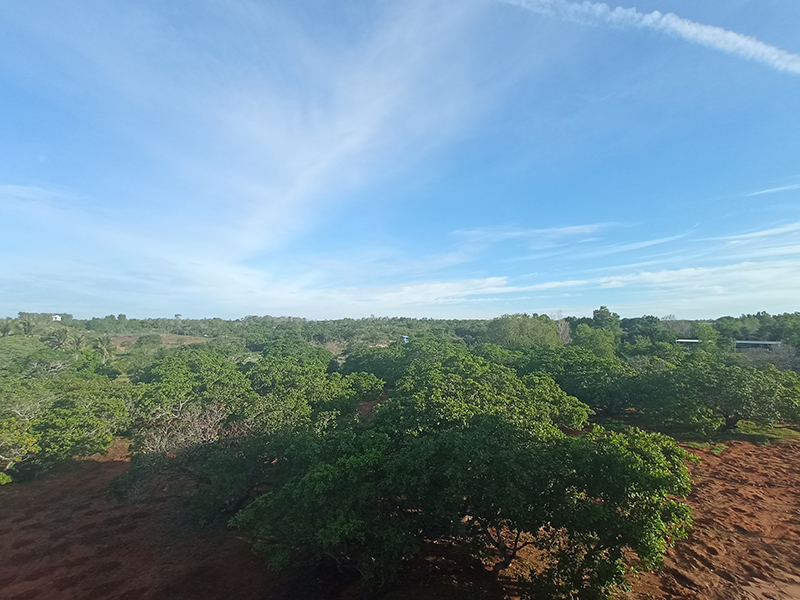 It was still the same forest but at a wider angle and the blood was more fresh. Photo taken in automatic mode, super wide angle – Good enough conditions.
With the photo taken in x2 mode, I was surprised that the image was still sharp as it was taken at a normal angle.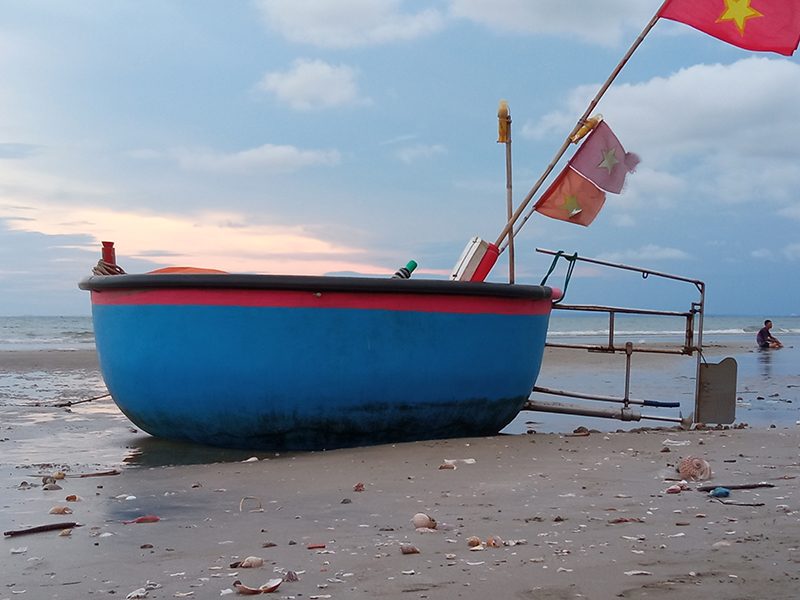 The familiar basket boat is associated with images of fishermen preparing to set sail. Photo taken in automatic mode – Underexposed conditions.
But what makes me more satisfied is that the quality of the Redmi 9's deleted photos with AI is really good. The erase was not blown away, and the background on the back of my back was removed for a natural-looking feel like a camera shot.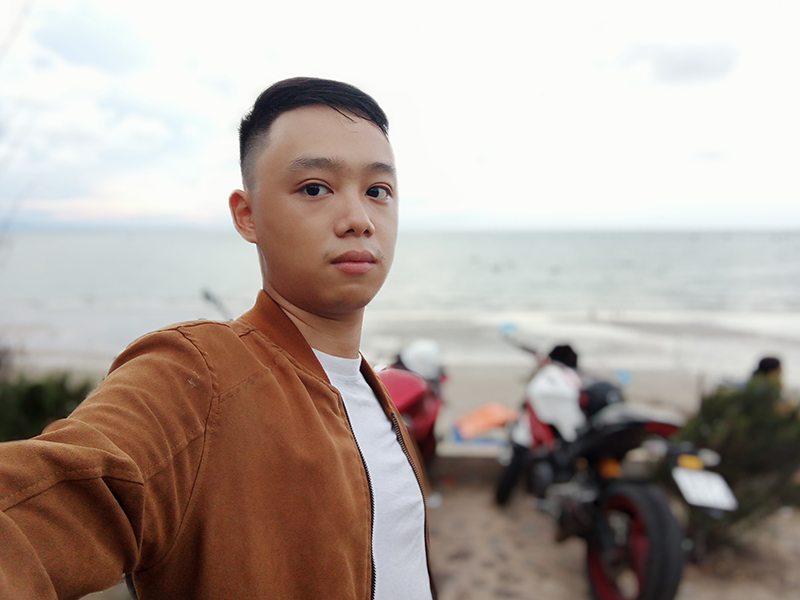 Behind me is that Ducati 795, and next to it is what you know. Photo taken in automatic mode – Bright enough conditions.
Finally, on the camera of Redmi 9 there is also a macro mode so I took it too. Recognizing macro photography sometimes catches interesting moments as well.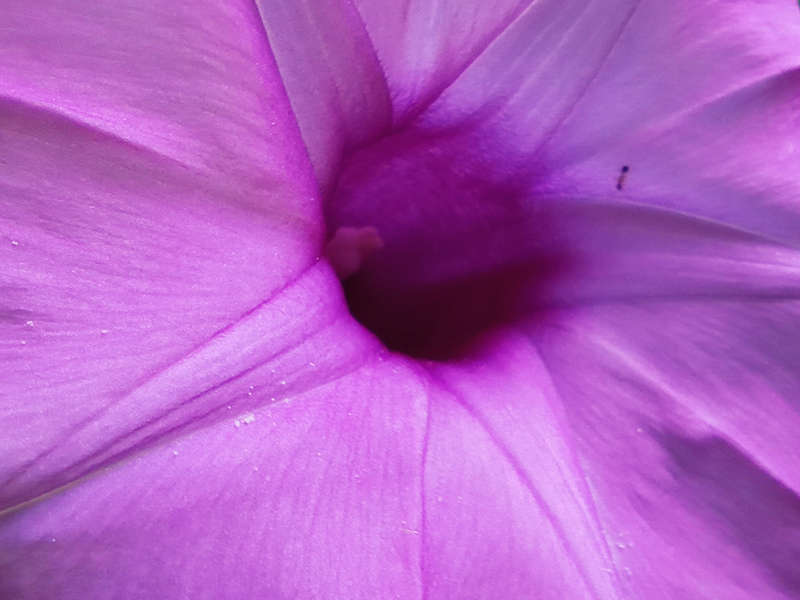 Not only can we see some dust on the flower, we also see an ant crawling at a speed of 0.15 km / h at an angle of 2 hours. Photo taken in automatic mode – Bright enough conditions.
And all of that makes me feel like Xiaomi has upgraded the camera cluster on the Redmi 9 too well. A phone in the low-end segment, but with a 4-camera cluster and excellent image quality. It was more than I expected.
2. Beautiful Redmi 9 design, sharp screen
As a cheap smartphone, but the Redmi 9 has a large design, with those with small hands, it is difficult to hold this device with just one hand.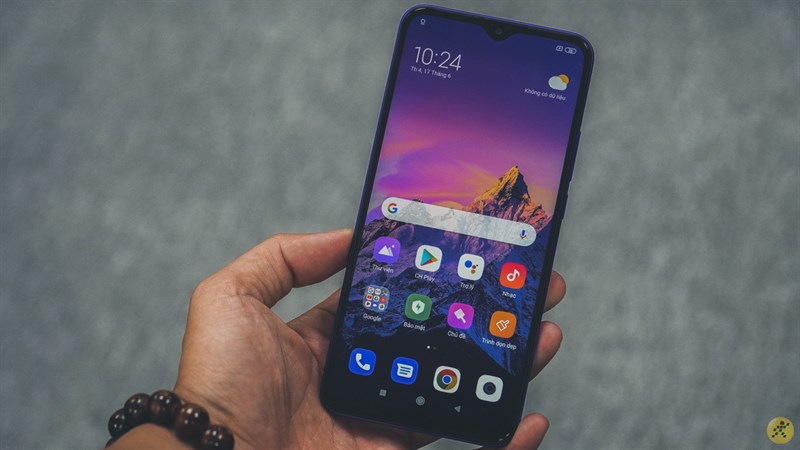 Luckily, my hand is also big so holding the Redmi 9 is also comfortable.
Redmi 9 comes in 3 different colors: black, mint green and purple blue gradient. The version I am evaluating is a bluish-purple gradient color and I personally think this is the best color of the three colors of Redmi 9.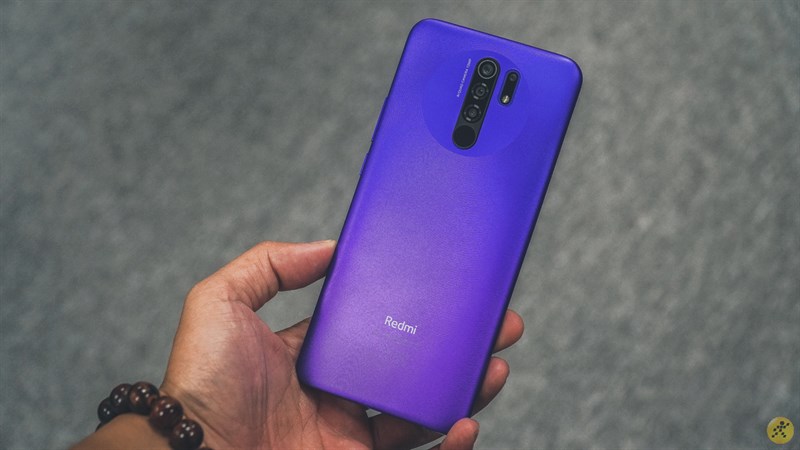 The back of the Redmi 9 with concentric floating circles from the camera cluster.
Even the camera cluster on the Redmi 9 has a unique asymmetrical design with a large circle covering the outside. However, if you use the case, you can not see this special circle anymore.
Going back to the front, the biggest selling point I see on the Redmi 9 is the sharp 6.53-inch waterdrop screen with Full HD + resolution. If you look at the budget segment, most of the machines only stop at HD + resolution only.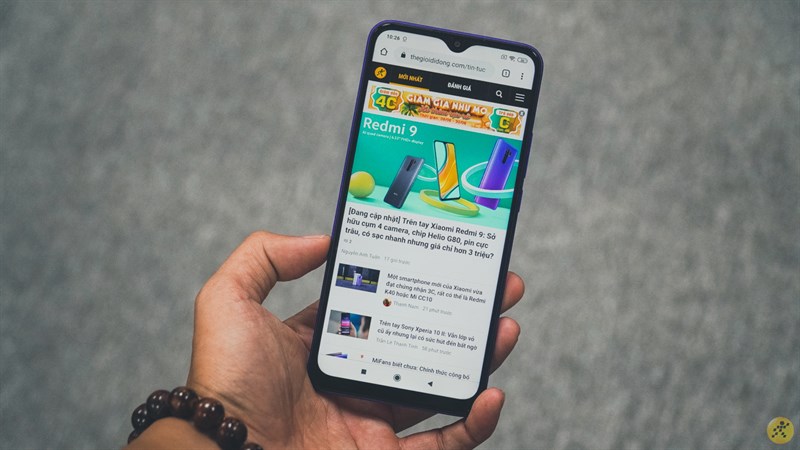 The screen of Redmi 9 is large in size and high in resolution.
And with this advantage, watching movies or playing games on the Redmi 9 will be much more eye-catching. In fact, when using it, I found the screen on Redmi 9 has a moderate brightness, enough to use when used in indoor and outdoor conditions. When using the device in the hot sun, you will find the screen a bit dark and it is difficult to see clearly the image being displayed.
3. The battery life of Redmi 9 is extremely strong, with fast charging and still feels long
Redmi 9 owns a 5,020 mAh battery. When looking at this figure, I have estimated that the battery life of the Redmi 9 must be over 10 hours, but how realistic I will evaluate through the following conditions:
Experience 4 rotating tasks: Fight Union (max setting of the device installed), watch YouTube, surf Facebook and use Chrome browser.
Each task takes 1 hour.
100% backlight.
Plug in wired headphones throughout.
Do not turn on battery saving mode or adaptive screen.
Turn on high performance mode.
Open WiFi and notifications from social networks.
Do not turn on GPS, Bluetooth and NFC.
Measured from 100% to 0%.
And as you can see, the battery life of the Redmi 9 is very strong and can use up to 13 hours continuously. Of course, not many people can sit on a phone for 13 hours straight. But with practical experience, I only use Redmi 9 to listen to calls, take photos, surf the web, … then it can be used for up to 2 days to charge.
Although we have a fast charger, but to fully charge the battery for Redmi 9, it will take us 3 hours. Below is a graph of measuring the speed of charging with the charger available in the box of Redmi 9.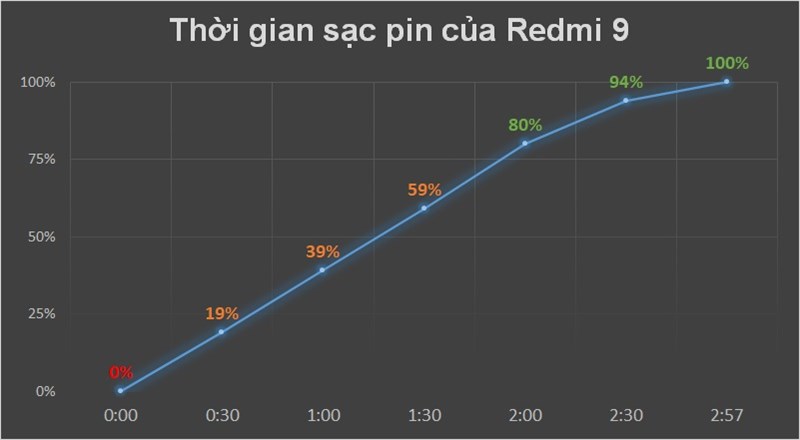 Battery charge time chart of Redmi 9.
4. Unfortunately, the gaming performance of the Redmi 9 is not really that great
First, we will take a quick look at the configuration of the Redmi 9.
CPU: MediaTek Helio G80 8 cores.
RAM: 4 GB.
Internal memory: 64 GB.
Note: 4 GB RAM version, 64 GB ROM is sold exclusively at Mobile World.
First, I measured the performance score of the device with Geekbench software, the device achieved 355 points single core and 1,330 points multi core. The strength of Redmi 9 is rated as stronger than Redmi Note 7 and inferior to Galaxy Note 8.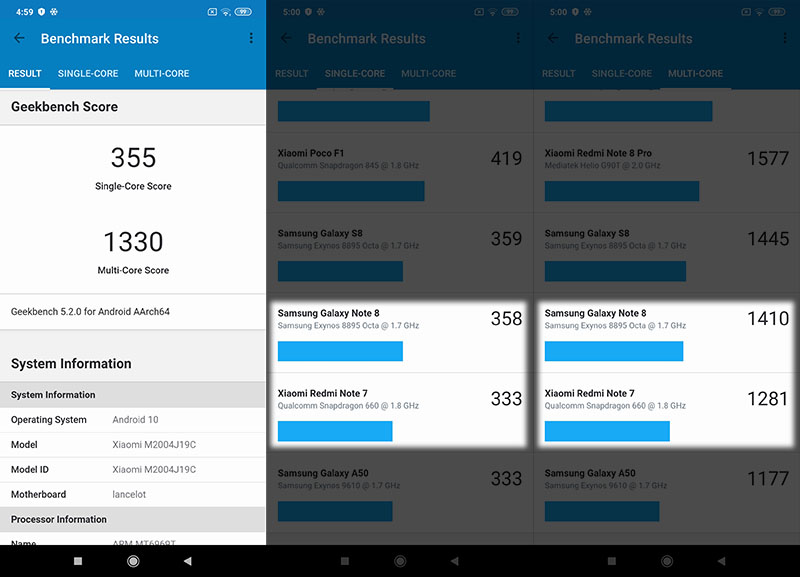 Geekbench score of Redmi 9.
I also measured the performance of the Redmi 9 with PCMark software, the device achieved 8,662 points and was even more powerful than the Galaxy Note 10. It sounds a little hard to believe. It is true that Benchmark scores should only be referenced.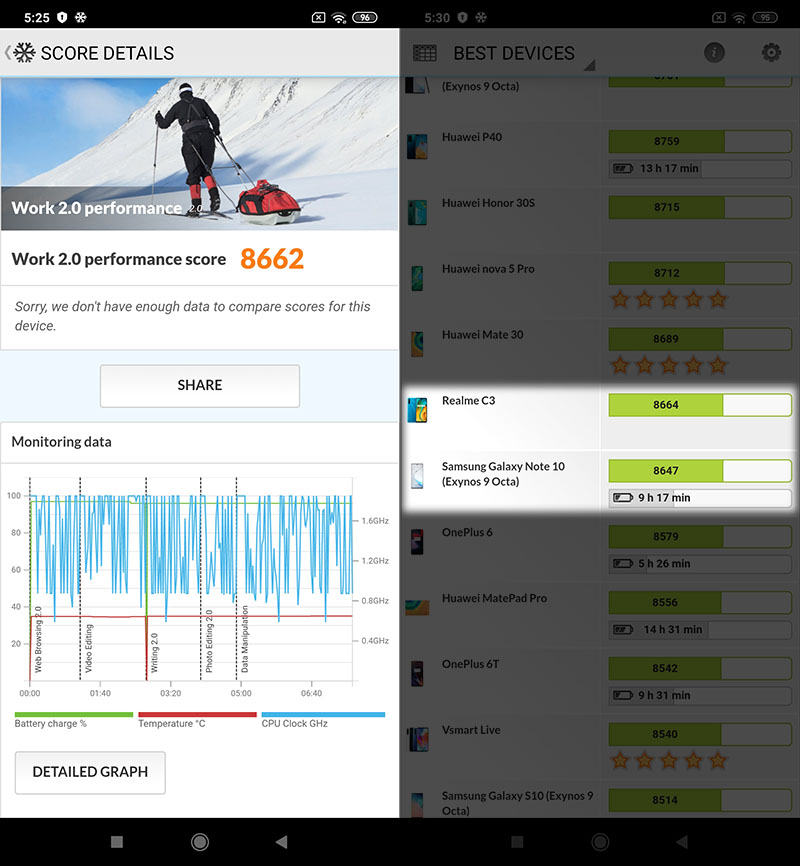 PCMark score of Redmi 9.
So I decided to get straight to the point by playing games on the machine with 3 games, namely Lien Lien Mobile, PUBG Mobile and Call of Duty Mobile. I evaluate the game performance with PrefDog software, the data obtained from this software you can refer to here.
First, I hit Lien Quan at a configuration level: HD resolution: Super high, Image quality: High, Detail quality: High. The game played smoothly from start to finish, except that it did not turn on the high FPS mode that made me feel that the game was not playing, just enough for light entertainment.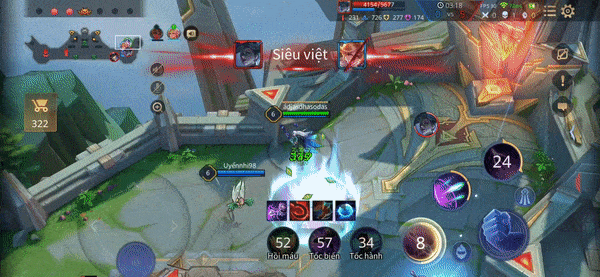 Average FPS: 30.0 FPS.
With PUBG Mobile, I was surprised when this game allows the maximum setting up to Graphics: HD, Frame rate: High. While playing, I felt a little lag, the frame dropped sharply, when skydiving or jumping through the window and driving. If the graphics are reduced to smooth, then I can still play at Frame rate: Extremely high. But really, when playing, it jerked, lag lag a bit like this it was not at all.
Average FPS: 29.4 FPS.
Finally, with Call of Duty Mobile, I left the default settings available at the game to play including Image quality: Low and Number of frames per second: Medium. But what surprised me was that when I entered the game, the FPS was pushed to the maximum of 60 FPS. However, when playing, it was not very smooth when FPS fluctuated up and down, made me find it difficult to play and the game was jerky.
Average FPS: 58.9 FPS.
In general, with Redmi 9 when playing popular online games like I should be, my personal evaluation is not high. This device gives average gaming performance, entertainment is good, but try hard if you try to think of phones with more powerful configuration.
Conclude
Considering the same price range, Redmi 9 stands out by a cluster of 4 beautiful camera, youthful design, sharp Full HD + screen and even great battery life. Particularly for Redmi 9 RAM 4GB version, 64GB ROM will be exclusively sold in Mobile World for VND 3,990,000. What do you think about this price and also the Redmi 9? Leave your comments below.