POCO F2 Pro is the newest rookie from the POCO brand (sub-brand of Xiaomi), pcs smartphone This can be seen as a comprehensive upgrade version compared to its predecessor. Let me review the details of POCO F2 Pro through the perspective of the technology page GizChina Please.
1. Terrible configuration does not bored any opponent
POCO F2 Pro is known as the renamed version of the unit Redmi K30 Pro was released not long ago. POCO F2 Pro is equipped with Qualcomm Snapdragon 865 chip, Adreno 650 graphics chip with two RAM options of 6 GB + 128 GB ROM or 8 GB RAM + 256 GB ROM.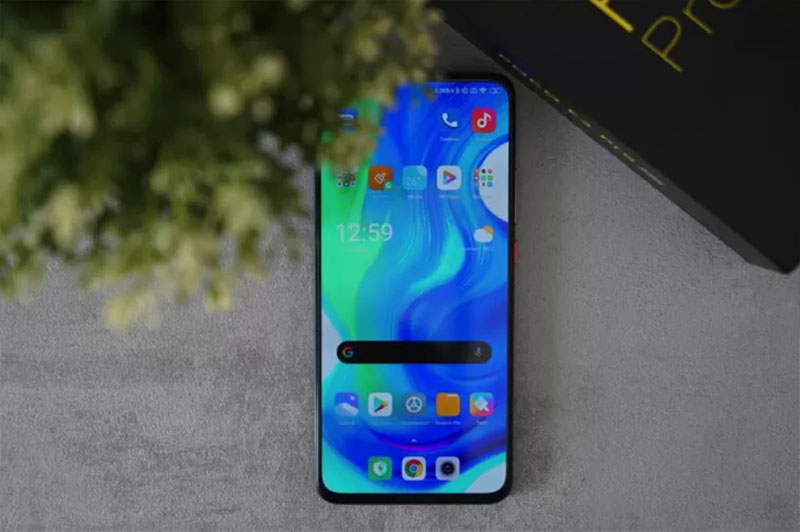 POCO F2 Pro is equipped with the most terrible configuration at the moment. (Source: GizChina)
POCO F2 Pro is equipped with a vapor chamber cooling system called LiquidCool 2.0, the interior of the steam chamber is composed of graphite and graphene layers to help dissipate heat more efficiently.
Through actual use, we found that this cooling system worked really well. The temperature maintained at about 50 degrees does not overheat and maintains a stable temperature when playing games for a long period of time.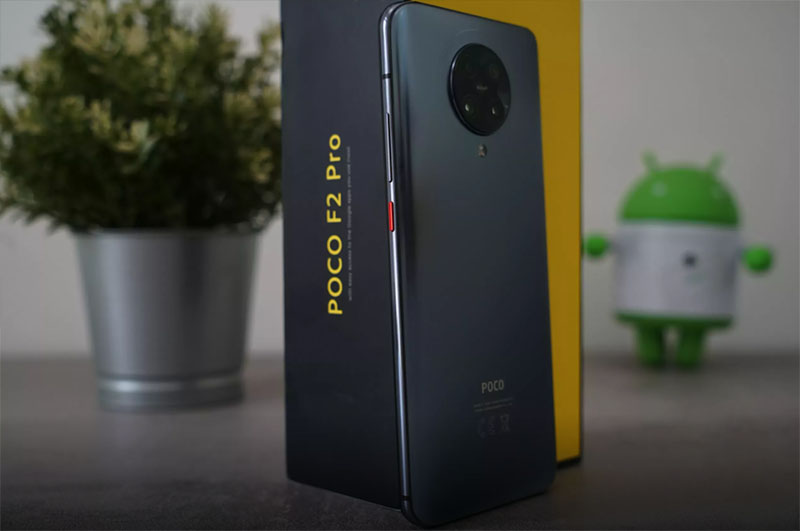 Equipped with advanced cooling system, helping the machine to maintain a stable temperature without overheating. (Source: GizChina)
To make it easier to imagine, we tried measuring this POCO F2 Pro with software like AnTuTu, GeekBench and 3D Mark. The score given by this smartphone is quite high. Specifically:
GeekBench 5: Single-core people get 917 points, multi-core people get 3,404 points
3D Mark: API's OpenGL reaches 375,069 points, while API's Vulkan reaches 444,297 points.
Measure the performance of POCO F2 Pro with GeekBench 5. (Source: GizChina)
Measure performance and graphics of POCO F2 Pro with 3DMark software. (Source: GizChina)
2. Camera
Let's take a look at the camera specifications of POCO F2 Pro:
Main camera: Using Sony IMX686 sensor with a resolution of 64 MP, aperture f / 1.89.
Ultra wide-angle camera: 13 MP resolution, f / 2.4 aperture.
Macro camera: 5 MP resolution, f / 2.2 aperture.
Camera supports removing fonts: 2 MP resolution, f / 2.4 aperture.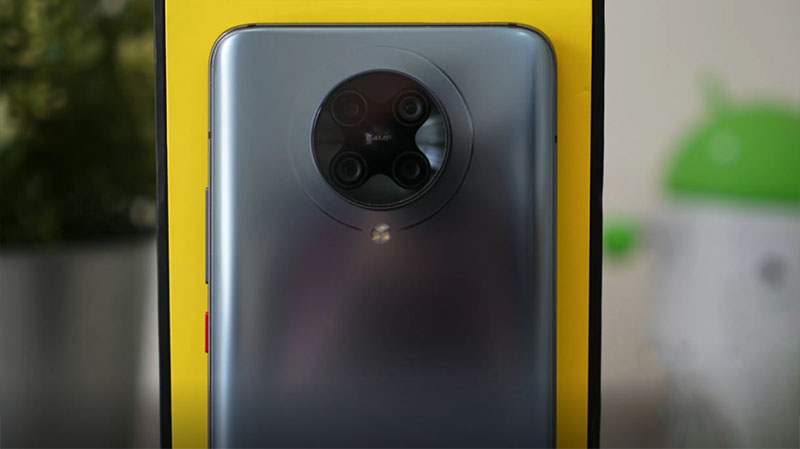 POCO F2 Pro uses a 4-camera system for good image quality. (Source: GizChina)
The photos taken in full light conditions with the wide-angle camera to produce good quality, true color, high detail.
However, if the AI feature is turned on, the image will be toned up and look not as natural as the picture below.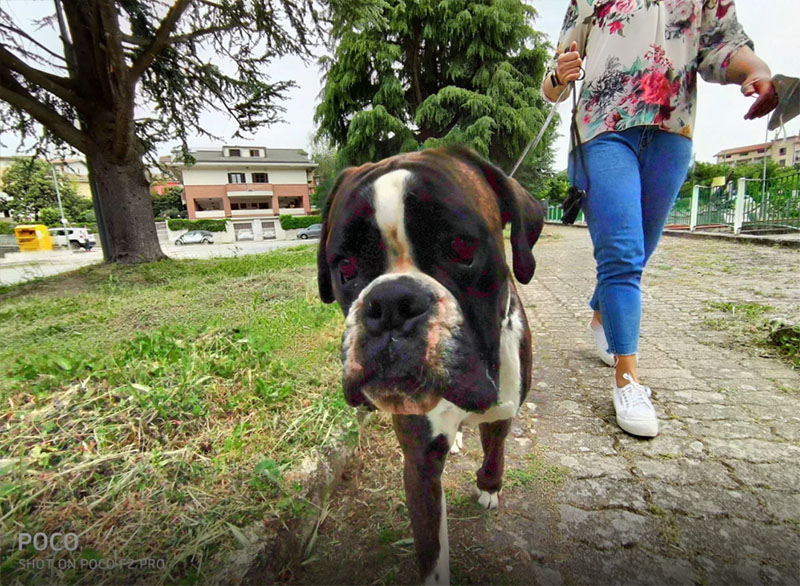 This image was taken using the AI feature, but I think this feature does not work very well. (Source: GizChina)
The dog, after being taken with AI, will experience red-eye, which tends to increase exposure and saturation, making the overall picture different from reality.
Photos taken from ultra-wide angle camera produce good quality, the image quality is not too bright, colors are relatively stable. As the photo below taken with a wide-angle lens produces images with fine details and colors, without too much noise.
When taking photos at night, POCO F2 Pro is not very good at handling. The photos do not retain high detail, still appear grainy. The photos with artificial light like street lights, the image will certainly be noise like the picture below.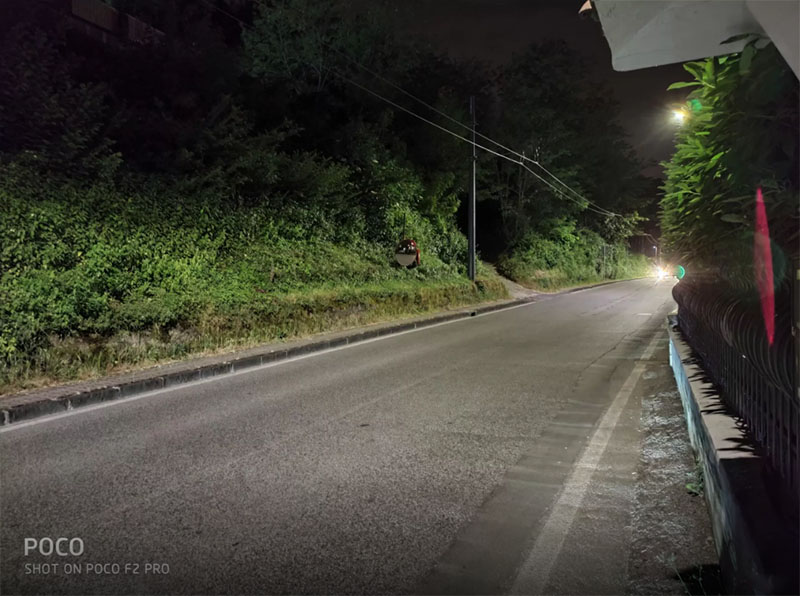 In low-light environments, the camera of POCO F2 Pro does not work very well when there is still noise and the image is out of focus. (Source: GizChina)
The macro camera does quite well its task, the colors are fresh, the details retained well when zoomed up do not lose too much detail like the pistil photograph below.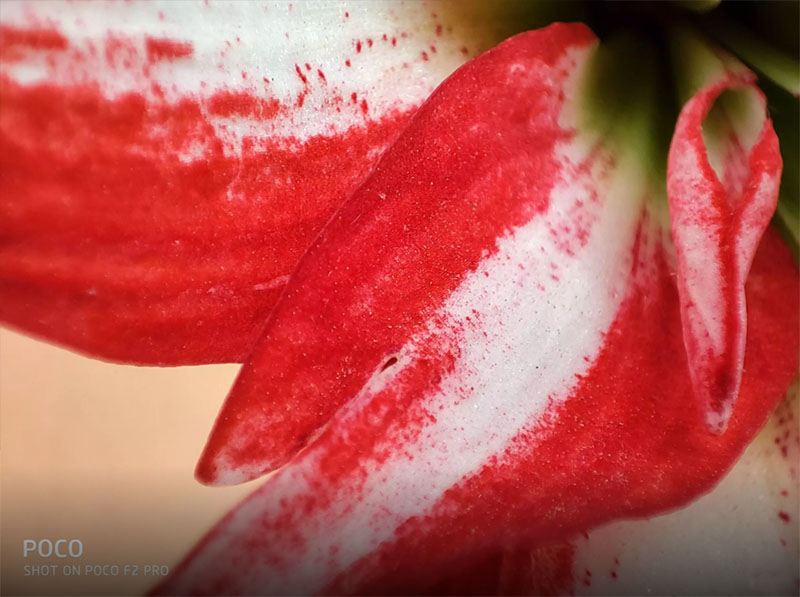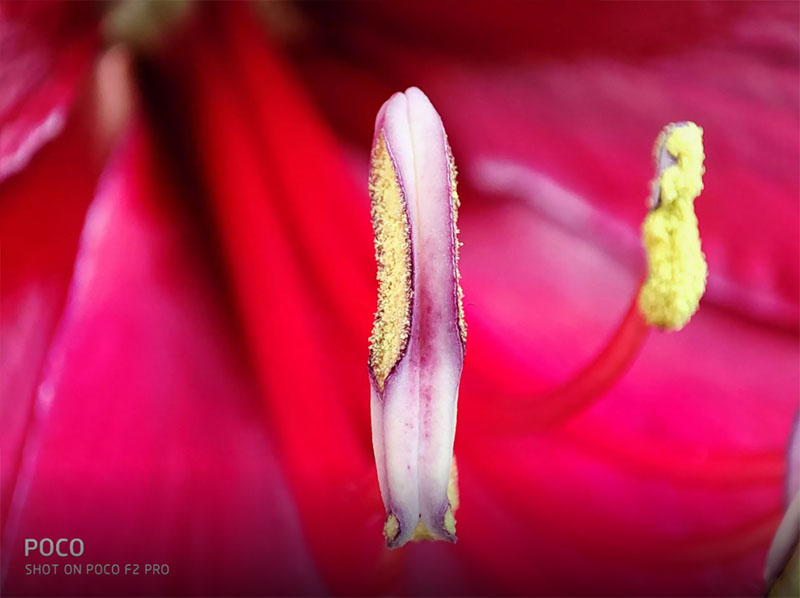 Photos taken from the macro camera of POCO F2 Pro have good detail, bright colors. (Source: GizChina)
The selfie camera of POCO F2 Pro has a resolution of 20 MP, this camera is quite good quality, the photos below reproduce natural skin color not too virtual. The front camera erase mode works well, measuring the subject correctly, not deleting the wrong part of the hair too much.
3. Design – Screen
If you hate the design of the teardrop or punched screen design, you will probably like the design of the POCO F2 Pro. This is a rare product of 2020 that still retains the design of a protruding camera and keeps the screen from being obscured by any element. Because POCO F2 Pro uses a pop-up camera, we will have a true full-screen display for a more enjoyable movie and gaming experience.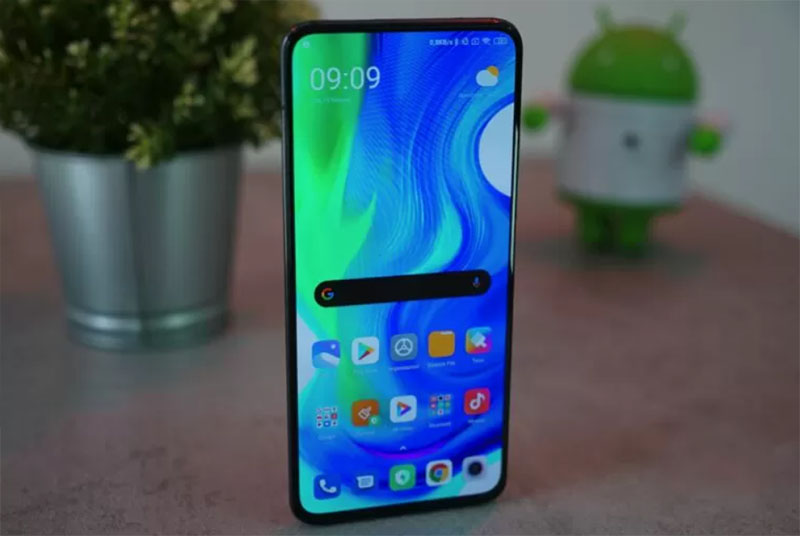 POCO F2 Pro has an edge-to-edge screen thanks to a pop-up selfie camera design. (Source: GizChina)
POCO F2 Pro is equipped with a 6.67 inch AMOLED screen with Full HD + resolution, a pixel density of 395 ppi, supports HDR 10+ technology and DC Dimming to reduce eye strain in low light conditions.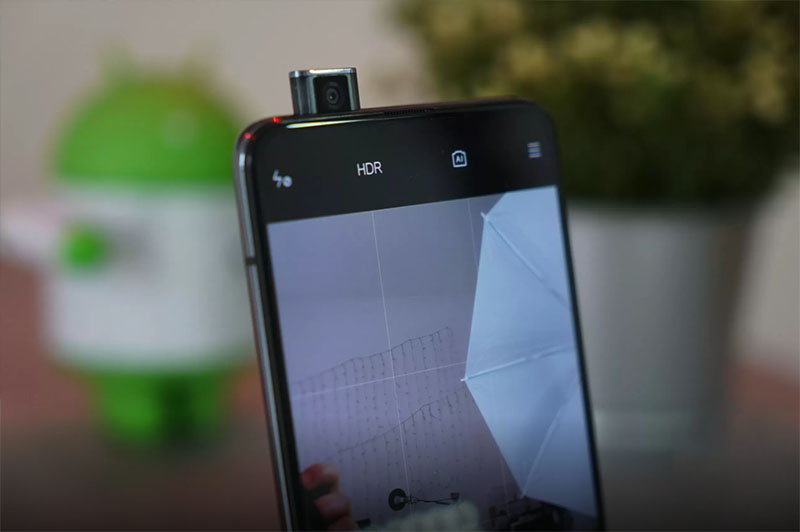 The screen of POCO F2 Pro displays sharp, wide color range. (Source: GizChina)
POCO F2 Pro is equipped with Corning Gorilla Glass 5 on both front and back. The back stands out with a 4-camera cluster placed in a circular module in the middle of the machine, I prefer this design to the vertical camera design that deviates to the left as the majority of other smartphones on the market, because this does For the machine become more balanced. The four lenses are symmetrically placed and surrounded by the concentric pattern texture like the mysterious X.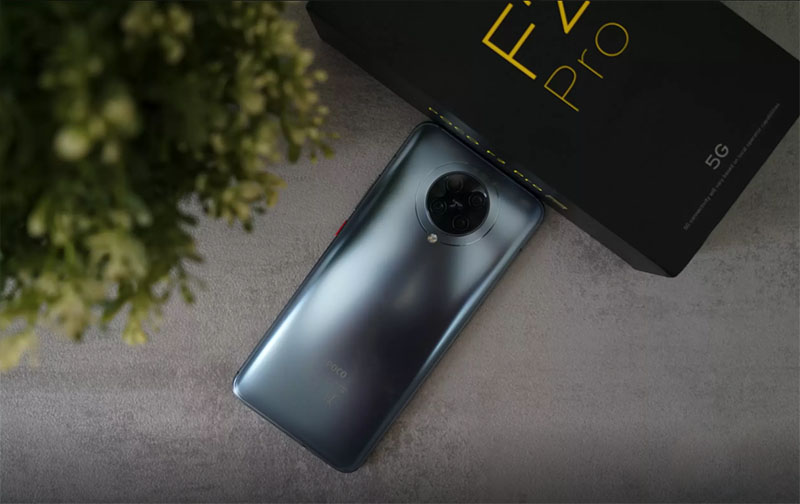 I quite like the round camera cluster of POCO F2 Pro. (Source: GizChina)
What I do not like about the back of the POCO F2 Pro comes from the position of the LED flash, this design makes the device look quite discrete and inconsistent. If this LED flash is located in the camera cluster, then this smartphone will be even more beautiful.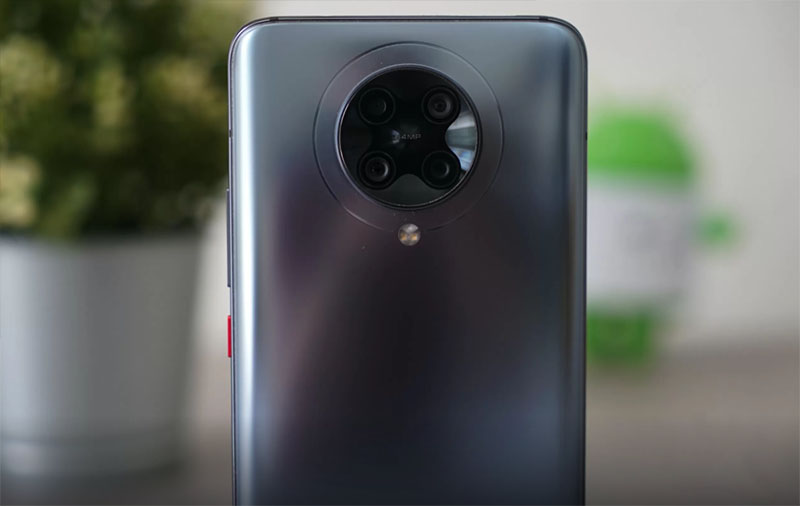 Led flash is located in a "misguided" position, which makes this the only minus point about the design of POCO F2 Pro. (Source: GizChina)
The highlight of POCO F2 Pro is that it still retains the 3.5mm headphone jack, which makes it difficult for you to own wireless headphones that can be easily used.
4. Battery life
POCO F2 Pro has a battery capacity of 4,700 mAh, thanks to the good power management of Snapdragon 865 chip, this smartphone can meet a day of use with high frequency.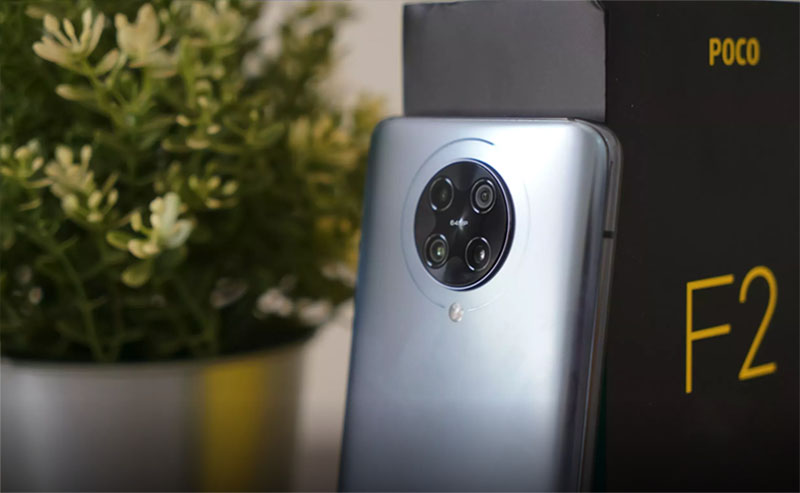 POCO F2 Pro has good battery life and supports super fast charging technology from Qualcomm. (Source: GizChina)
When using a 30W fast charger, this POCO F2 Pro takes 30 minutes to charge 64% and takes a total of 63 minutes to fully charge. When switching to a 50W charger, we only took 45 minutes to fully charge the device. However, POCO F2 Pro is not equipped with wireless charging and this is probably the minus point of this device.
5. Summary
POCO F2 Pro will probably be the device that is loved by many gaming enthusiasts on smartphones thanks to the reasonable price of 499 Euro (about 12.3 million VND), possessing a beautiful design, terrible configuration and room cooling system slightly advanced.
Do you think this smartphone is worth buying? Leave your comments below the comments section.