In April last, Apple has launched iPhone SE The second generation, also known as the iPhone SE 2020. Owning the same appearance as the iPhone 8, the iPhone SE differs only inside is the 6-core Apple A13 Bionic chip and the battery remains the same with 1,821 mAh capacity. . Let's come to the post iPhone SE 2020 battery review right after this
Battery interface on iPhone SE 2020.
1. Review iPhone SE battery with popular apps and games
To evaluate the battery life of iPhone SE, I use this device in the following conditions:
Screen brightness: 100%.
Speakerphone: 50%
Bluetooth: On.
Wifi: On.
GPS: On.
4G: Off.
The games and applications I use are popular and measured from 100% to 0%. Time values ​​are summarized in the table below and the unit of measurement is hours.
Conditions of use of the game and application are listed below:
PUBG Mobile: Graphics: HDR, frame rate: Extreme.
Lien Quan Mobile: High FPS: Open, Cloud effect: Open, HD resolution: Super high, Image quality: HD, Detailed quality: High.
Call of Duty Mobile: Graphics: HDR, Frame rate: Extreme.
Facebook: Surf the regular view.
Chrome: Surf the web normally.
YouTube: Watch video.
Zalo: Video call.
Messenger: Video call.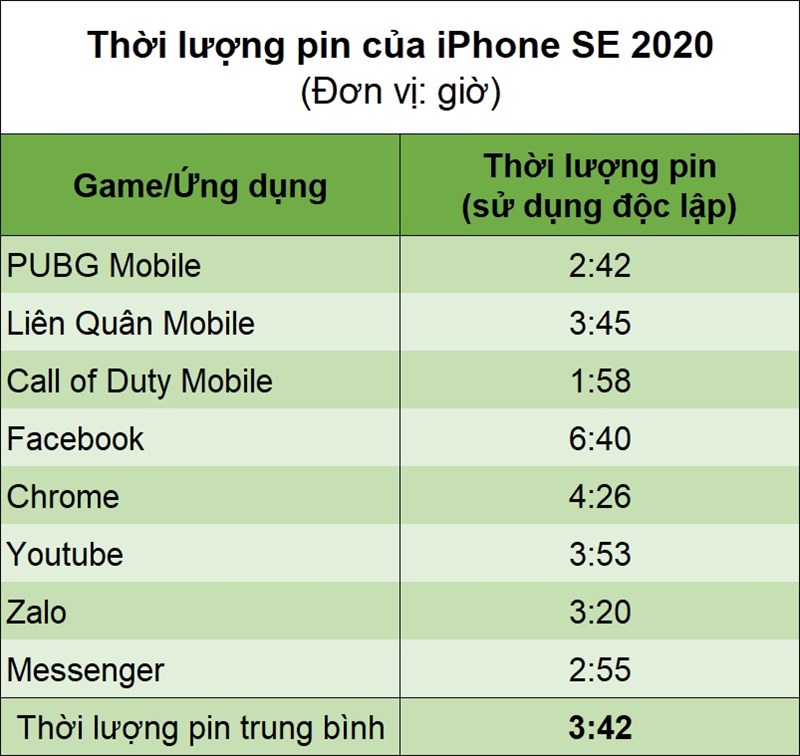 IPhone SE 2020 battery life table through each application.
In addition, you can refer to the chart below for a more intuitive look.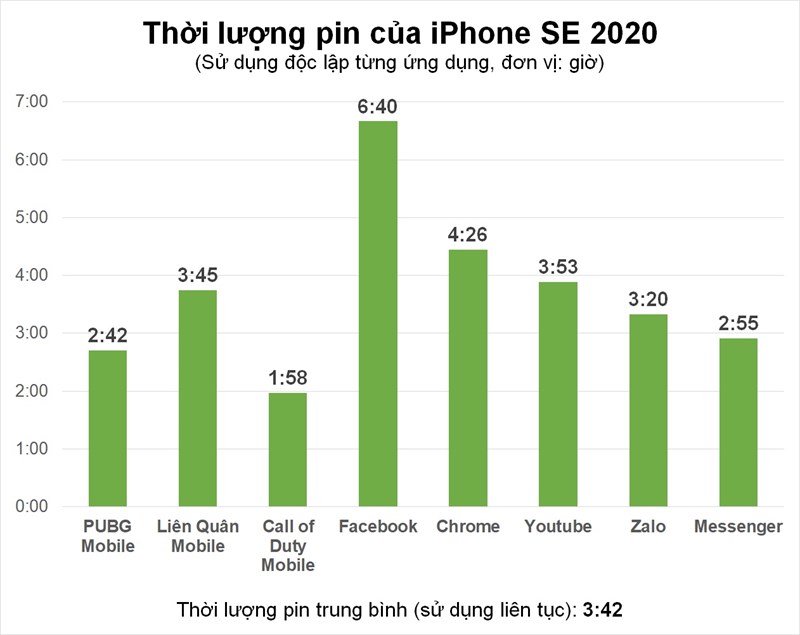 IPhone SE 2020 battery life graph.
Based on the above results, you can know that if you only use the iPhone SE continuously to fight the Union in the conditions mentioned above, with a battery capacity of 100%, you will be able to play within 3 hours 45 minutes. And if you lower the game configuration and screen brightness, the battery life might be longer.
3 hours 42 minutes is the average battery life I rely on the results of the eight applications and games mentioned above to give you a better idea of ​​the battery life of mixed use on iPhone SE.
2. Assess the battery charging time of iPhone SE
I use the built-in charger and start charging from 0% until the battery is 100% full, the iPhone SE takes more than 2 hours. Through the chart, we can see the charging speed of the device decreases as the battery begins to reach the 80% mark.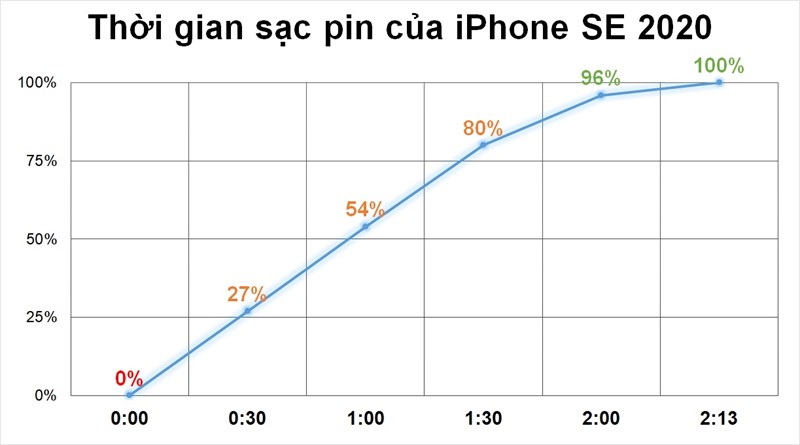 IPhone SE 2020 battery charging time chart.
The iPhone SE also has a 18W fast charger, but this accessory must be purchased outside, not included in the box.
3. Conclusion
The low battery life is an inherent drawback on the iPhone and even though it is an old wine, the battery life of the iPhone SE is only nearly 4 hours of continuous use. For those who have been and will choose the iPhone SE to use, I have the advice to bring a spare charger and charger with you so this phone can live well and stay with you until the end of the day. Please.
No phone is perfect. The weakness of battery life on the iPhone SE 2020 is something many users already know, but with a very powerful configuration and a neat, familiar design, it is clear that the iPhone SE 2020 is still worth using. And what do you think about the battery life of iPhone SE? Will you be able to use it comfortably until the end of the day? Let me know your thoughts in the comments below