Sunglasses is not only necessary for adults but also an important accessory to protect young eyes in the sun. In this article, we will take note of the use of sunglasses for children, please take a look.
1. Note when using sunglasses for children
– Avoid taking off your sunglasses suddenly
Remind children not to take off your sunglasses suddenly, especially when it is very hot, because now eyes not yet adapt to strong light. It is best to find one shady place than to remove the glasses to avoid damaging the eyes.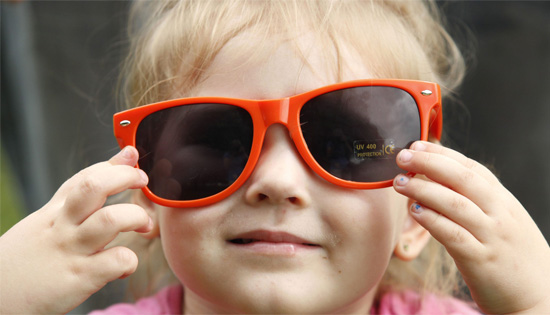 – Do not look directly into the light despite wearing sunglasses
Absolute Not for children Looking directly at the sun whether or not sunglasses are available.
If children regularly act like this will form a very habit harm to eyes. In the long run will cause the Chronic eye defects.
– Regularly clean sunglasses
Sunglasses are often used for children when participating in outdoor activities, so there will be very lots of dirt and bacteria latch on.
Therefore, parents should note clean the sunglasses For children to keep children safe, avoid infections, eye diseases.
You should pay attention to cleaning glass by types Specialized cleaning solution. Use soft cloth or towel to clean, Do not use hard cloths or harsh chemicals because it will damage the glass.
– Do not wear sunglasses for a long time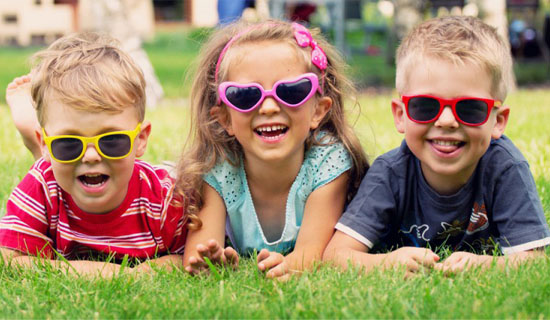 At a developing stage, these natural light going into the child's eyes will Stimulate eye nerve, help better vision of eyes. So that Do not allow children to wear sunglasses continuously for a long time, only worn when outdoors and Do not wear more than 4 hours.
– Teach children how to wear glasses properly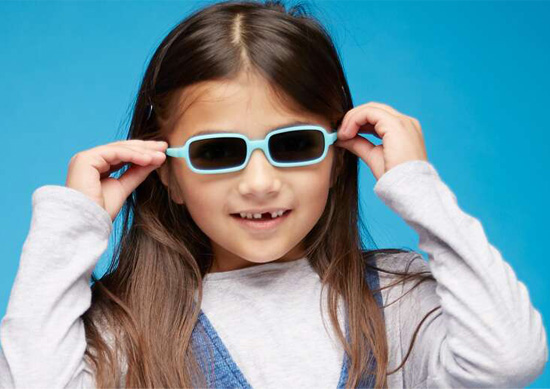 Parents should teach children to use two hands to wear glasses or take off the glasses, manipulation must be gentle, slow to avoid the frame to touch the baby's eyes.
– Fix the glass when it is loose
Parents should regularly pay attention to children's eyeglasses, when The frame is loose, you Use a screwdriver to tighten the screw again, absolutely Do not use duct tape, rubber bands (elastic bands) or other adhesives Because not guarantee durability.
2. Note when buying children's sunglasses
– Choose glasses have UV resistant high, on the label with characteristics UV protection 99-100%.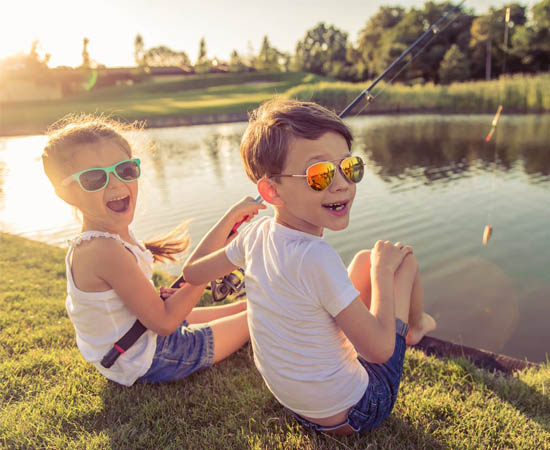 – Choose the types of glasses available Lens material is Polycarbonate, the advantage of this material is the ability shock resistance and lighter compared to standard lenses.
– Choose frames fit your face, ask clearly Baby's feeling when wearing To choose a suitable product for your baby.
– Choose to buy Children's eyeglasses at the Reputable shop, the Genuine dealer or authorized by the company.
– Do not choose cheap sunglasses because often these lines have Lead content on painted glass surface high harm the child, poor durability.
– Limiting choosing glass lenses because of these types will heavy over, long wearing time will uncomfortable, more will be very dangerous when the lens is broken.
Hopefully, through the above article, it will provide full information for parents in using sunglasses and finding the most suitable products for children.