In order to ensure the health of consumers, Kangaroo freezer coated with a layer of Nano Silver (also known as Nano Silver) helps keep food fresh and disinfect. Together we learn more about this technology is what? How effective offline!
1. Nano Silver technology on Kangaroo freezer
– What is Nano Silver Technology?
Nano Silver is extremely small particles (size 1 nanometer = 1 billionth of 1 meter) Having a huge surface area helps increase their exposure to bacteria, thereby killing bacteria and mold quickly, reducing odor from food in the cupboard.
To make it easier to visualize the size of the above molecules. (I will give the following example: On average, a human hair is about 90cm long and has a diameter ranging from 0.05-0.12mm. The particles will have a size of about 1 / 50,000 compared to a hair).
Nano Silver is Exclusive technology of Kangaroo, in addition to the freezer Kangaroo also applies Nano Silver technology on other devices such as water filters, …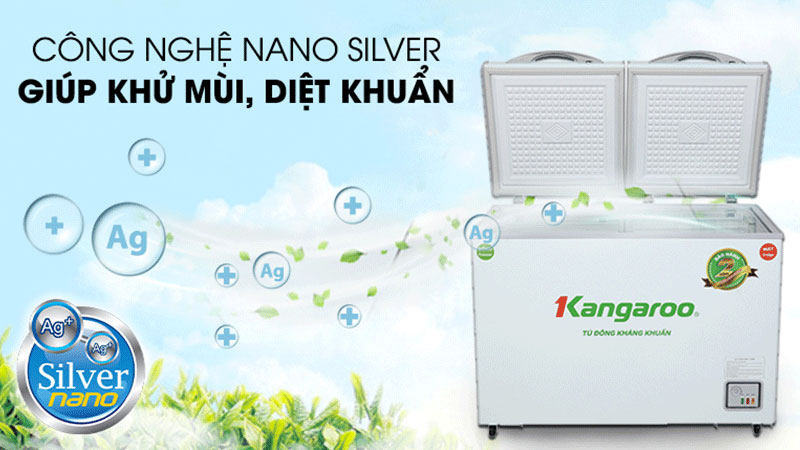 Nano Silver technology equips Kangaroo freezer
– Operation mechanism
Silver molecules (Ag +) reach the (bacteria, fungi, algae, …) found in food, inhibiting the ability to transport oxygen into cells to kill bacteria, prevent the process of development bacterial growth.
Direct impact on bactericidal foods
2. The benefits that Nano Silver technology brings
– Antibacterial, deodorizing
Kill many harmful bacteria in food and create an extra layer of protection against bacterial growth.
In addition, it limits the smell from fish, fresh meat, foods that easily smell, …
The benefits that Nano Silver technology brings
– User friendly
With regard to the chemical reactions that Nano Ag + creates to fight bacteria, it does not affect the health of the user, helping users to process and eat foods that are safer.
The effect of using food is fast, does not cause irritation, allergy during bactericidal process.
– Preserving food for a long time
Silver nano is stable, can extend the time of antibacterial effect.
Keeping food fresh for a long time, preserving the nutrition of food when users prepare or enjoy better food.
3. Kangaroo freezer products are equipped with Nano Silver technology
I will list some of the products you can refer to at the website of Dien May Xanh:
Prices of products are updated on the day 06/01/2020 and promotions are valid for the month 6/2020.
– Kangaroo 140 liter KG 265NC1 freezer
– Kangaroo 192 liter KG 266NC2 freezer
– Kangaroo 212 liter KG 328NC2 freezer
– Kangaroo 192 liter KG 268DM2 freezer
In addition, Nano Ag + also helps create highly active oxygen in the air and water to help eliminate odors, clean the air to keep food fresh longer.