Mitsubishi Electric is not only famous for its products air-conditioner, electric fans, … products fridge This brand is also very popular. So which country is Mitsubishi Electric refrigerator? Is it good and should you buy it? Let's answer these questions through the article below!
1. About Mitsubishi Electric brand
– Brand history
Mitsubishi Electric is Japanese brand was founded in 1870 and now becoming a multi-industry group: aviation, information technology, computers, services, semiconductors, .. developed worldwide.
Mitsubishi Electric Vietnam Co., Ltd. was established in July 2011This is a milestone marking the development and attachment of this brand to consumers in Vietnam.
Mitsubishi Electric is a quality brand of Japan
– Where is Mitsubishi Electric refrigerator manufactured?
Mitsubishi Electric refrigerator is Made in Thailand based on Japanese technology.
Misubishi refrigerators are highly appreciated by the world and Vietnamese consumers for their quality.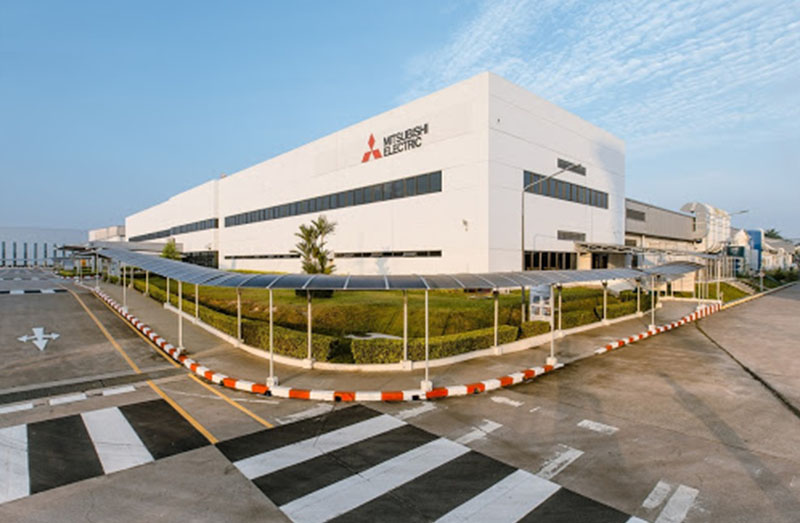 Mitsubishi Electric refrigerators are made in Thailand
2. Is Mitsubishi Electric refrigerator good?
To evaluate whether Mitsubishi Electric refrigerator is good and good or not, it is necessary to learn the outstanding technologies. Here are some highlights of technology and smart features on Mitsubishi Electric refrigerators.
– The modern and luxurious design
The design and style of Mitsubishi Electric refrigerators always impress users by the luxury, choosing strong colors that highlight modernity for the home space.
Mitsubishi Electric refrigerators have 4 mainstream designs: Refrigerator with 2 wings, 3 wings, 4 wings and a line of high-end cabinets 6 wings, suitable for each need of consumers.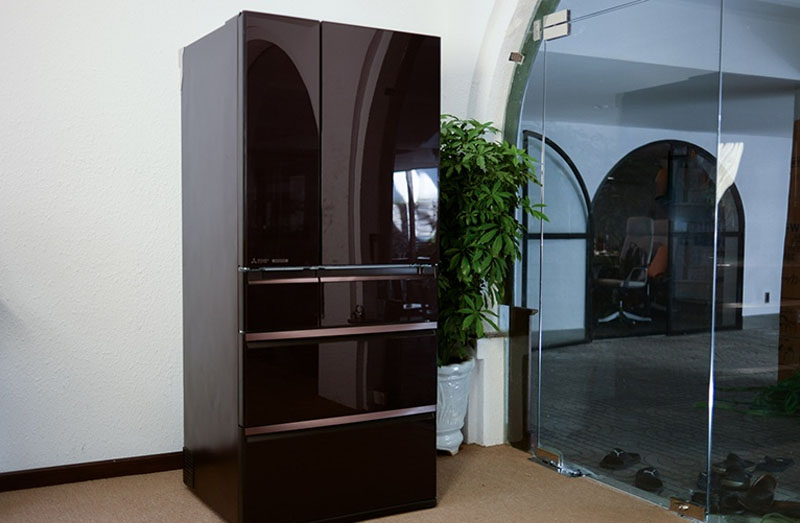 Luxurious style, shiny mirror surface
– Power saving, smooth operation
+ Neuro Inverter Technology: Considered as the "brain" of the refrigerator, with the function of remembering the number of times the refrigerator is opened, the change in the ambient temperature to adjust the compressor to create the appropriate refrigeration, which saves 45% Electrical Power.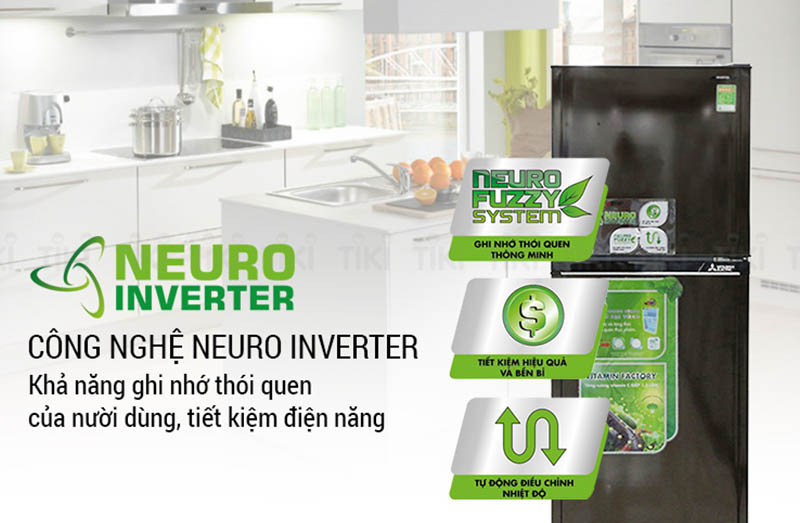 Maximum power savings, smooth operation
+ Neuro Fuzzy processor: Combined with Neuro Inverter to help remember the habit of using the user's refrigerator to adjust the temperature appropriately, save power, operate smoothly, reduce noise level to a minimum (19 ~ 30 dB).
Decibel – also called decibel (abbreviated as dB) is a unit of calculating the noise level of sound.
– Cooling quickly and evenly
+ Multidimensional cooling system: Using a dual fan system, cold air spreads throughout every corner of the cabinet to help preserve fresh food from inside and outside.
+ All around cooling technology: Helps cool airflow evenly distributed in every position in the cabinet, the food will be evenly cooled from all sides and better preserved.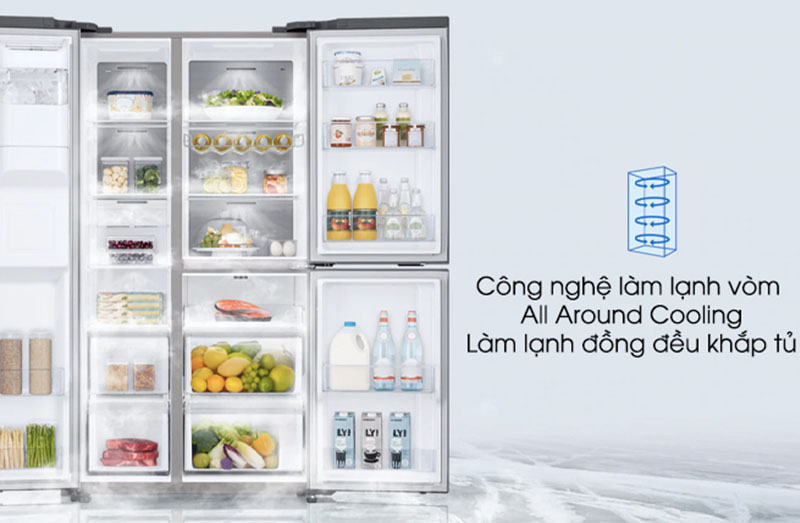 Cold air spreads evenly in every corner of the refrigerator
– Deodorant, high antibacterial
+ Silver molecule antibacterial wall:
Mitsubishi Electric refrigerator products are coated with antibacterial silver particles on the walls of the refrigerator to prevent growth and destruction 99% bacteria.
This coating is verified by Japanese safety you can rest assured.
+ Active carbon deodorizing filter: Active carbon filter eliminates the fishy odor in the fridge, helps preserve food well and does not smell bad.
Antimicrobial technology, deodorizing efficiency up to 99%
– Separate vegetable compartment
+ Vegetable and fruit compartment:
Mitsubishi Electric refrigerators feature a separate fruit and vegetable compartment with an orange LED system that simulates light and the right temperature to help photosynthesis and provide the necessary moisture.
Fruits and vegetables are always fresh and enhanced 15% vitamin C.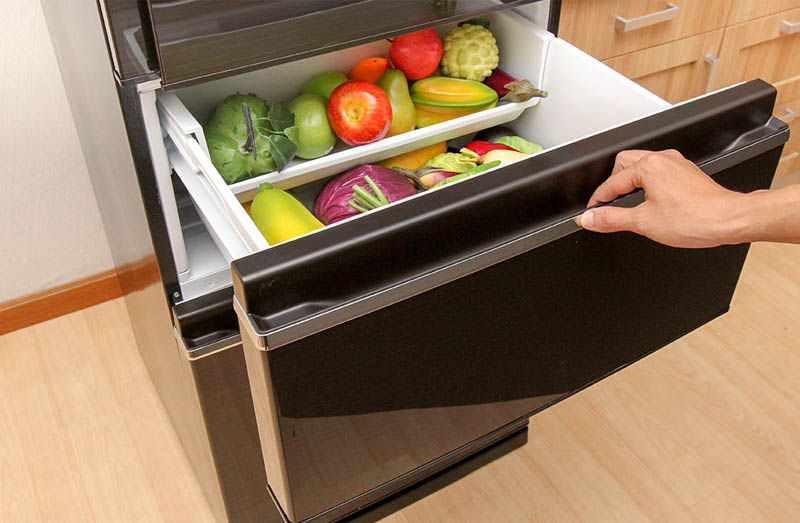 Separate vegetable compartment, good moisture to preserve freshness
+ Compartment for processed food This compartment adjusts the temperature appropriately to help preserve processed foods, foods that are always full and keep necessary nutrition.
– Other utilities
+ Tempered glass tray: Design tempered glass tray to 100kg, so you can hold a lot of food without fear of spoiling, like a normal plastic tray. Easy to clean and quickly clean.
+ Series of bright LED lights: The array of LED lights illuminates every compartment in the fridge, making it easy to see and get the food you need. Create more modern and luxurious for your fridge and home space.
+ Mobile ice tray: Portable ice tray makes it easy to use ice cubes with a simple rotation. You can disassemble the ice cube tray to make more free space for the freezer or clean the tray easily.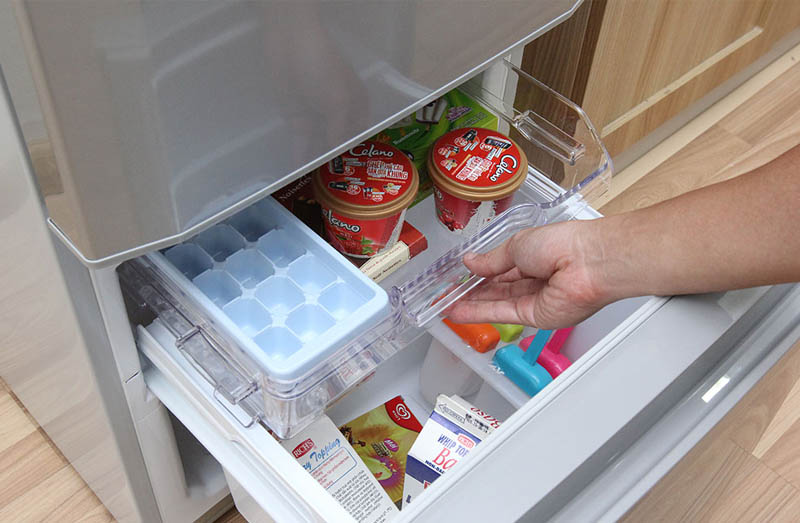 High-strength glass tray and LED lighting system for every compartment
3. Should Mitsubishi Electric refrigerators be purchased?
Mitsubishi Electric refrigerator is Japanese quality brand trusted by many consumers in the world and highly appreciated for its durability as well as modern technologies.
If you are planning to invest in your family a refrigerator that is luxurious, durable and has many useful features, Mitsubishi Electric is a brand not to be missed.
Details of the company:
– Website: https://www.mitsubishielectric.com/en/index.html
Hopefully this article helps you better understand Mitsubishi Electric refrigerators and the modern technologies that come with them. See you in the following articles.