Intel has launched 10th generation CPUs with all segments, including Intel Core i3 10110U on the laptop midrange. Let's find out this CPU series.
1. What is Intel Core i3-10110U?
Intel Core i3-10110U is the 10th generation CPU of the Comet Lake series that Intel recently launched. This is a U-series CPU, so it promises to save energy along with high performance for laptops. Besides this CPU is also equipped with integrated graphics card UHD Graphics for better graphics processing performance compared to the previous i3 core using HD Graphics integrated cards only.
2. Performance and upgrades of Core i3-10110U
The performance of the Core i3-10110U can be said to be much better than the previous i3-8130U, with a maximum clock of up to 4.10 Ghz when compared to 3.40 Ghz on the i3-8130U. Along with that, it supports RAM up to 64 GB which is 2 times higher than the previous generation. Thanks to that, the performance is significantly increased.
Moreover, this CPU series is still equipped with 2 cores and 4 processing threads, helping Intel Core i3-10110U laptops can multitask multiple applications at the same time without many difficulties.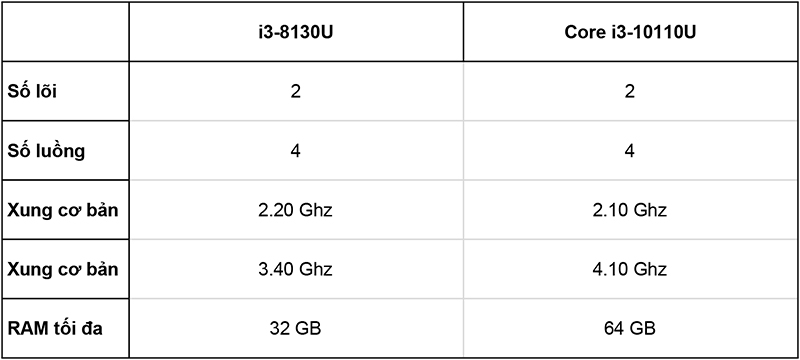 Compare performance between 10th and 8th generation CPUs
3. Should I buy a laptop using a Core i3-10110U CPU?
Laptops with Core i3-10110U are really not too weak compared to Core i5, so choosing a laptop using this CPU is completely worth office users. This processor runs applications such as photoshop or illustrator so it can meet the needs of users who do light graphics.