The first question I asked when I looked at ROG Zephyrus G14 was that it was gaming laptop anymore? Why is it designed with a simple style and a customized back surface according to user preferences like this?
When sold, ROG Zephyrus G14 will come in two different color versions, black and white. Most of the gaming laptop versions have black color, so I decided to give you a white version.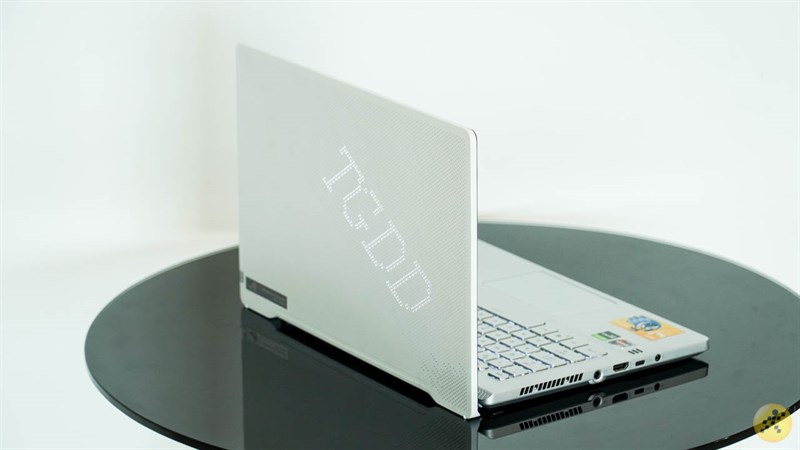 The white version of ROG Zephyrus G14 looks beautiful and eye-catching.
See more: Detailed review of ASUS ROG Zephyrus G15: Proud of powerful AMD R7 CPU, confidently proving your worth in the price segment
1. Unique design with customizable back surface
ROG series of devices in recent years have used the back with cross cut designs combined with the familiar ROG logo. And even though ROG Zephyrus follows that design, this machine has been raised to a new level with the back of the AniMe Matrix LED screen that allows users to customize it to their liking.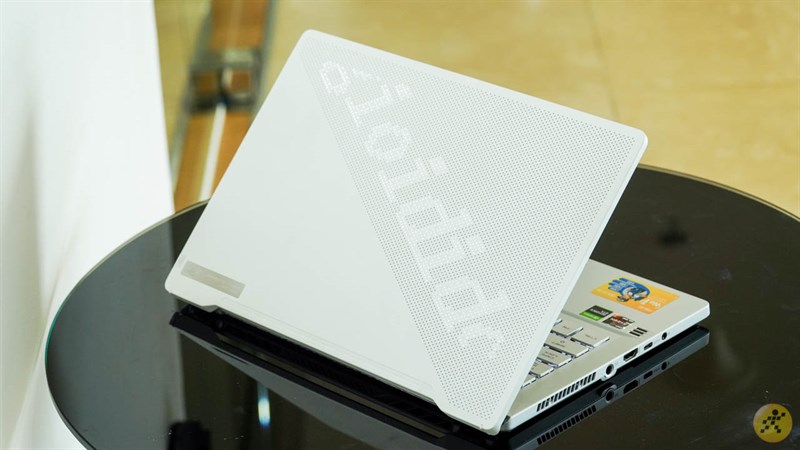 AniMe Matrix LED display on ROG Zephyrus G14.
If you touch a little with the HTC M8, we can see it is very similar to the Dot view screen, except that on ROG Zephyrus is monochrome white only. The most interesting part is probably that you can completely configure your back, display what you like, from logos, running text, battery life, hours, etc.This is also a special feature. The best thing is that no other laptop company can do outside of ASUS.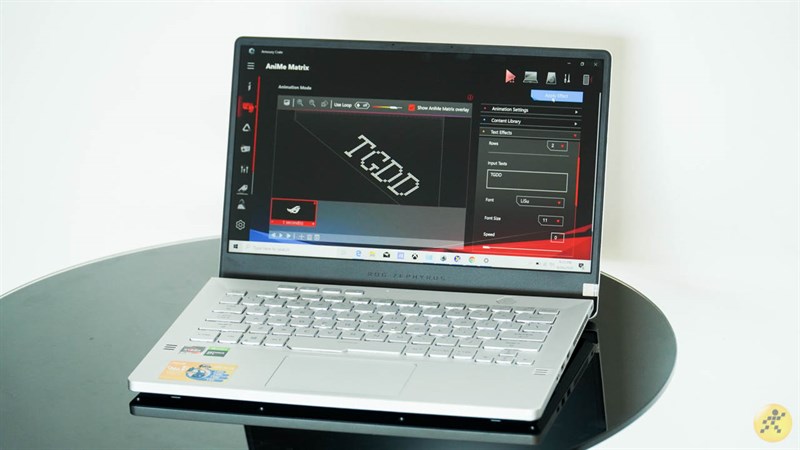 Customizable software interface on the back of ROG Zephyrus G14.
Forget about the outstanding back, ROG Zephyrus G14 is made from magnesium alloy, so the weight of the machine is about 1.7 kg. And considering the ranks of gaming laptops, this is considered one of the lightweight laptops.
The overall look of the ROG Zephyrus G14 is no longer bunkers, instead it creates a square, strong, similar to business laptops. From the beginning I have commented that, this is almost not a gaming laptop anymore, it was something beautiful and too quality.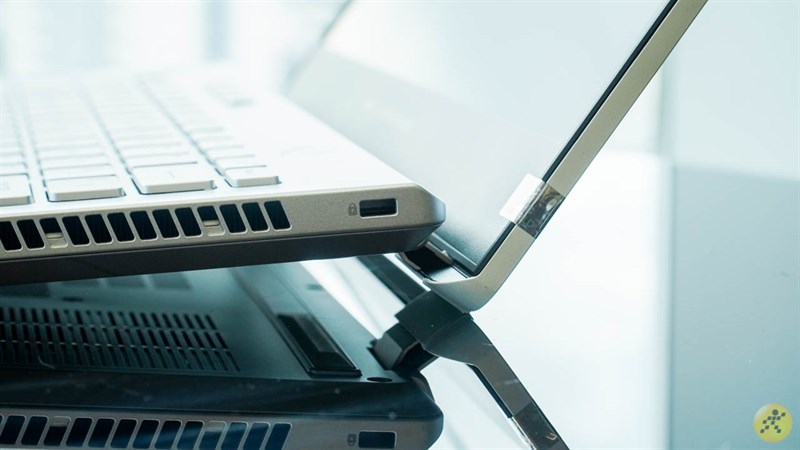 Familiar Ergo Lift hinge, which enhances the body, makes it easy to type, just as convenient for the air inlet slot below.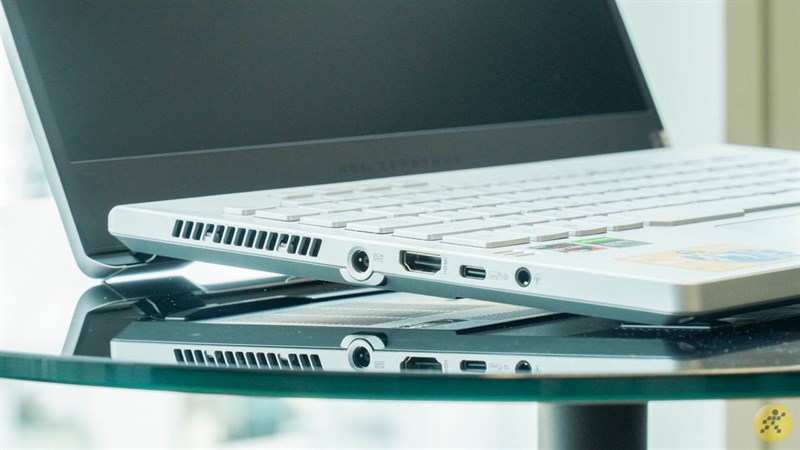 The left side is respectively the heat sink, charging port, HDMI port, USB-C port with built-in charging port and 3.5mm headphone port.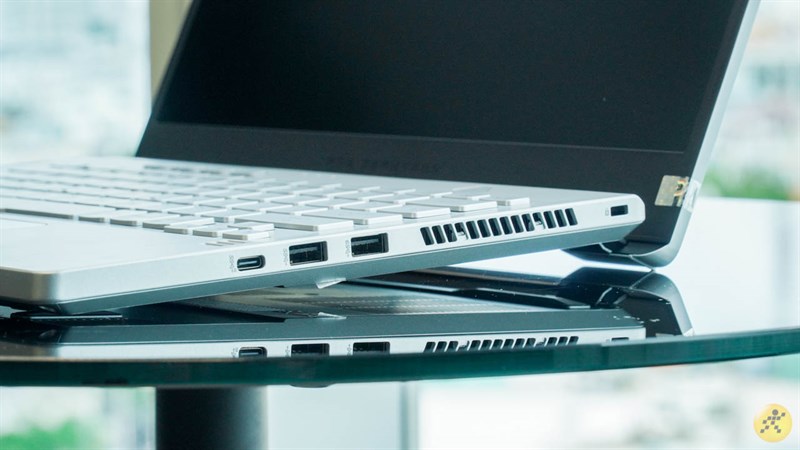 The right side is respectively the heat sink, 2 USB 3.2 ports and USB-C port.
And this design seems to be a bit wrong, when most gamers prefer to plug the mouse to the left to play to avoid the problem, the ROG Zephyrus G14 has only two USB Type A ports that it is located on the right.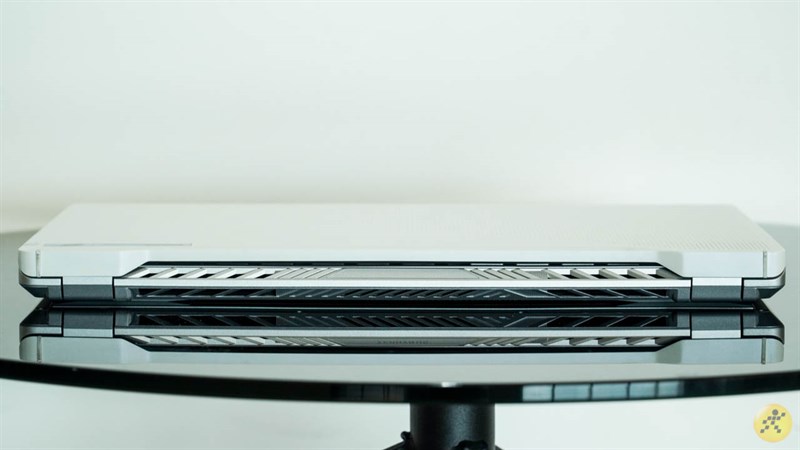 The back edge with the heat sink design unique fish shape.
The keyboard on ROG Zephyrus G14 will be a white monochrome keyboard, not an RGB LED. And again, this design makes me think of business laptops with silver colors and white keyboard lights. However, the keyboard on this machine is more than enough to meet the gaming standard with a large key size, reasonable distance, long key travel and high bounce.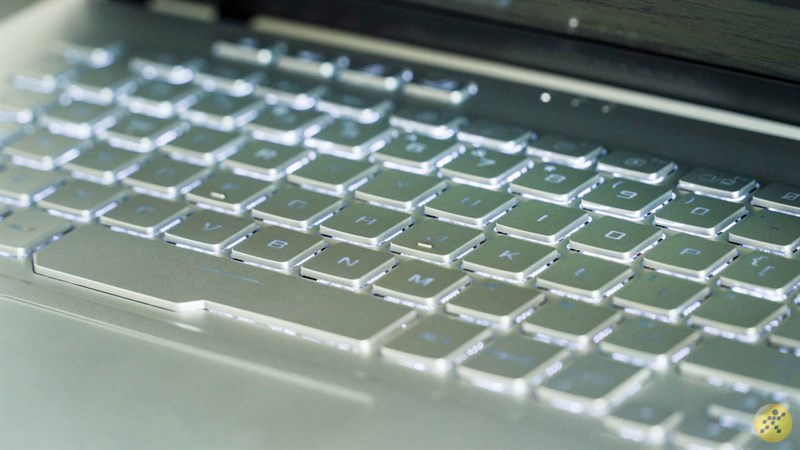 A close-up of monochromatic white-backlit keyboard of ROG Zephyrus G14
2. Sharp screen and terrible configuration
The ROG Zephyrus that I have on hand has a 2K screen (2560 x 1440 pixels), 100% sRGB color standard, but the scanning frequency stops at 60 Hz. Fans of the FPS game series must have seen a slight sadness after seeing this line. And some creators find this amazing.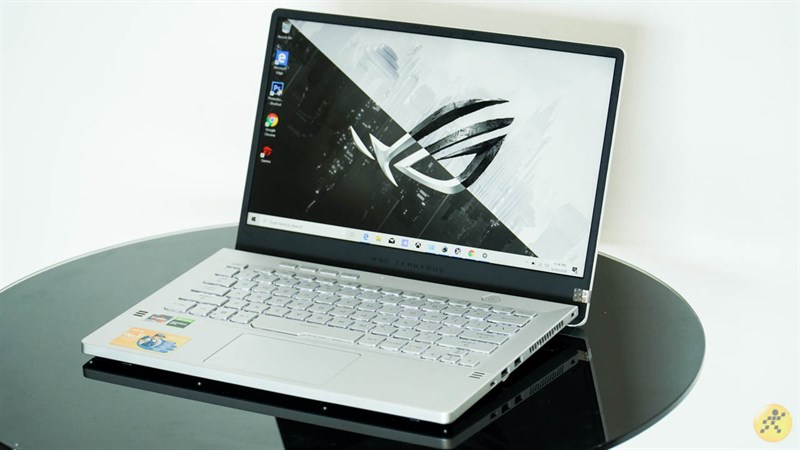 Does ROG Zephyrus G14 seem like a laptop born for creators?
This also makes me wonder, or is it the ROG Zephyrus G14 for creators who sometimes play games for entertainment? This hypothesis seems reasonable when I first saw the design is a bit like a businessman, the monochrome white keyboard and now the 2K screen, 100 sRGB too.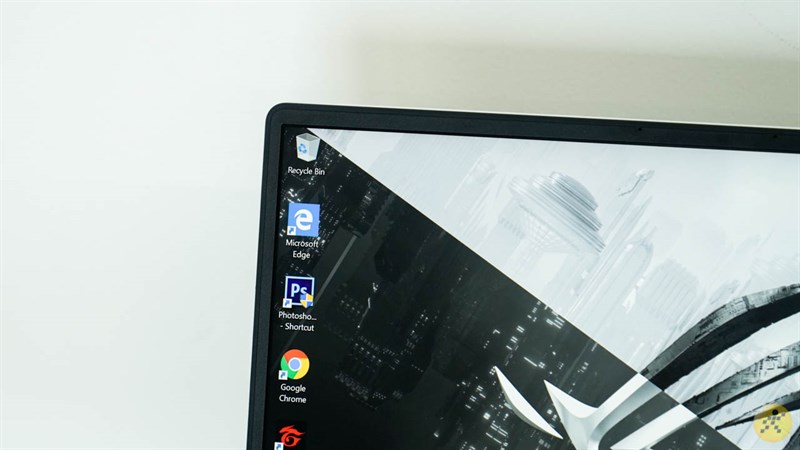 Ultra-thin screen bezels on ROG Zephyrus G14.
But in fact, ASUS still has another version of ROG Zephyrus G14 using Full HD resolution screen and up to 120 Hz refresh rate and satisfaction to meet the needs of gamers who like to play shooters.
In terms of configuration, the most advanced ROG Zephyrus G14 will use AMD R9-4900HS CPU and RTX 2060 Max-Q graphics card and two lower versions will use AMD R7-4800HS CPU and GTX 1660Ti graphics card or 1650Ti.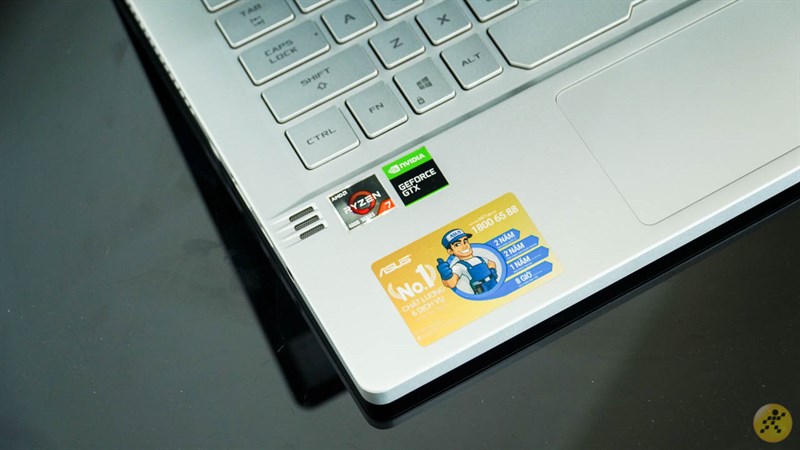 Configure the laptop I am on hand using AMD R7-4800HS CPU and discrete graphics 1660Ti.
With configurations like this, the current popular games like PUBG, Call of Duty Warzone, CS: GO, GTA V, … can fight smoothly on ROG Zephyrus G14.
Another interesting information about this laptop is the great power saving ability thanks to the cooperation between ASUS and AMD. According to the manufacturer, the battery life of ROG Zephyrus G14 can be up to 10 hours of continuous use. That's a very high number, while most gaming laptops currently have an average battery life of 3-4 hours.
Conclude
It seems that ROG Zephyrus G14 is no longer a mere gaming laptop, it's not just a gaming laptop for those who like simplicity and color, but also for creators who need a lightweight machine. , Strong configuration.
What do you think of the ROG Zephyrus G14? Leave your comments below.