Snapdragon 768G Dimension 820 vs Kirin 820 are three processor models mobile The latest comes from 3 giants Qualcomm, MediaTek and Huawei. All three chips are aimed at the mid-range segment and are supported with 5G technology. So which side will deliver better performance? With me Comparing Snapdragon 768G Dimensity 820 Vs Kirin 820 Please!
This article is the view of the page Gizchina, mainly talking about the performance, 5G connectivity and graphics processing capabilities of the three processor models above, not focusing on the chip structure.
Before starting the battle, let's take a look at the chip structure of the 3 contestants today:

Parameter table of the three processors Snapdragon 820G, MediaTek Dimensity 820 and Kirin 820. Source: Internet.
Snapdragon 768G – Good overall performance and graphics
Snapdragon 768G is nothing new. This SoC is developed on the basis of the Snapdragon 765 series. The difference between these two types of chips is that SND768G is clocked up to 2.4 GHz instead of 2.3 GHz as SND765, the GPU is increased by 15%.
The chip family also uses the Cortex-A76 architecture in a 1 + 1 configuration (one high-frequency core and one medium-frequency core), along with six Cortex-A55 cores. As mentioned, the improvement lies in CPU performance, when playing games or running heavy applications, SND768G will handle tasks better and smoother than the previous generation.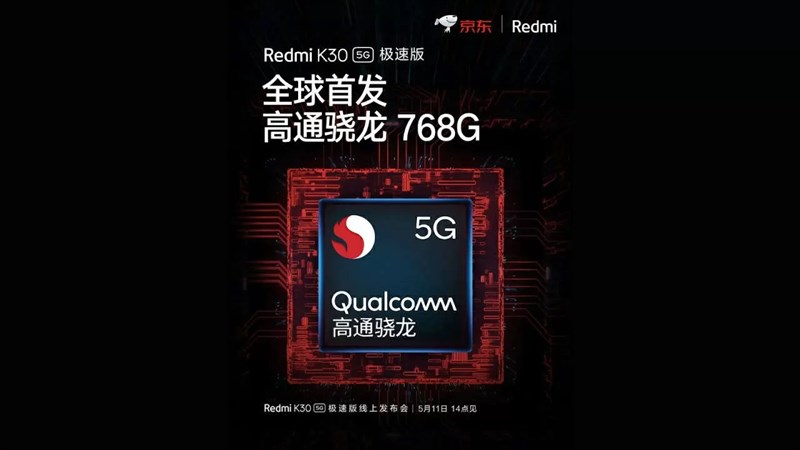 The SD768G chip is currently available on the Xiaomi Redmi K30 5G. (Source: Gizchina)
The biggest advantage of Snapdragon 765G (so Snapdragon 768G) is that it makes globalization of 5G faster and smoother. The chip is manufactured on TSMC's 7nm process. The 5G modem in the chip supports a maximum download speed of 3.7 Gbps and an upload speed of 1.6 Gbps. The internal Snapdragon X52 modem, like the Snapdragon X55 modem, also supports all the important 5G connectivity features, as well as allowing 5G connectivity in a larger area. Besides, SND768G also supports Wi-Fi 6, Qualcomm aptX adaptive audio, Bluetooth 5.2 and USB Type-C 3.1.
Snapdragon 768G supports dual frequency GNSS, so it can track the position more accurately. Therefore, any smartphone using this chip is capable of supporting multiple 5G frequencies. In particular, this is the first Snapdragon 7xx chip to have such a function.
The Snapdragon 768G uses a Qualcomm AI engine and a low-power sensor, giving the smartphone the ability to recognize contextual voice commands. But this feature will not make your device run out of battery quickly. The new Hexagon accelerator also helps the fifth generation AI engine to work more smoothly. Overall, the Snapdragon 765G SoC is capable of running 5.5 trillion calculations, close to the performance of the Snapdragon 855. At the same time, the SND768G has a separate component called the Qualcomm Sensing Hub designed to detect always-on audio.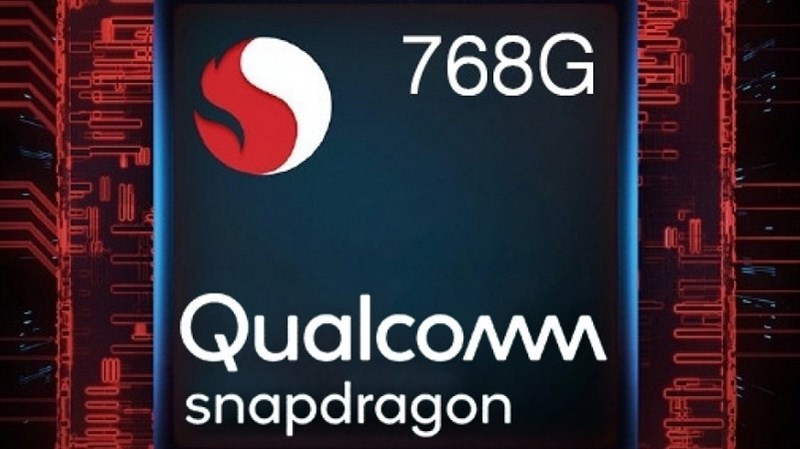 Snapdragon 786G chip. (Source: Internet)
Qualcomm Snapdragon 768G integrates the Spectra 355 image signal processor, supporting up to 192 MP images. This SoC can carry Full HD + 120Hz screen and QHD + 60Hz screen. The processor also supports various cameras such as main lens, telephoto and wide angle as well as 4K HDR video recording.
Adreno 620 GPU inside supports drivers to help Adreno update drivers, this is the first 7xx "Dragon" chip to have this function. Snapdragon 768G also comes with Elite Gaming feature for smoother gameplay and more detailed image quality. Qualcomm also equipped with the ability to watch HDR10 + video and Dolby Vision in Adreno 620.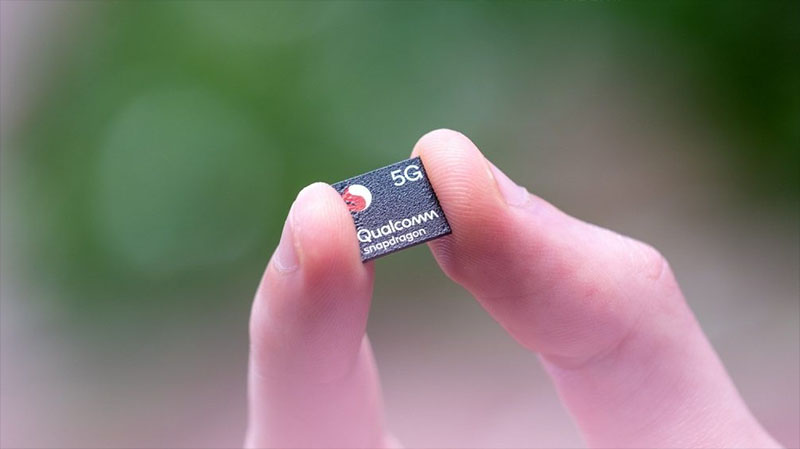 Qualcomm Snapdragon 768G integrates the Spectra 355 image signal processor. (Source: Internet)
Smarphone using Snapdragon 768G can come with 12GB RAM with memory speed up to 2133 MHz. In addition, Qualcomm has added new Quick Charge AI technology.
Dimension 820 – Performance lags slightly to Snapdragon 768G
Built on the TSMC 7nm FinFETMC process and using the same CPU micro architecture as the previous generation, MediaTek Dimensity 820 is the successor of Dimensity 800 but offers more powerful CPU and GPU performance. MediaTek has also increased the clock speed of the chip, with a speed of 2.6 GHz for four Cortex-A76 cores.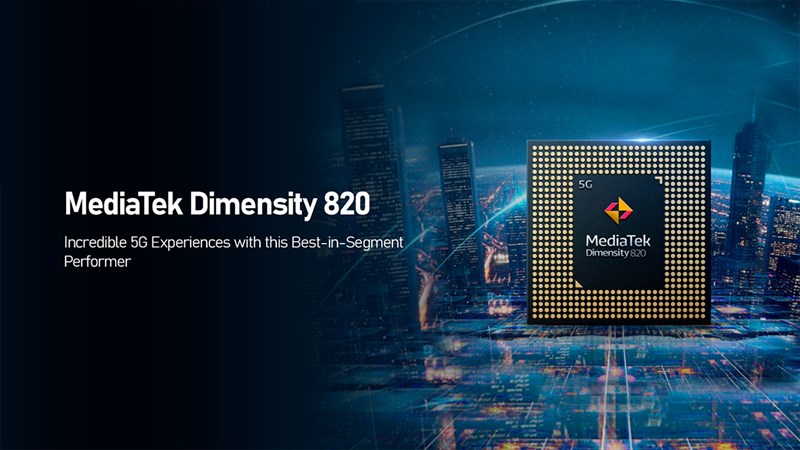 MediaTek Dimensity 820 is the successor of Dimensity 800. (Source: Internet)
For GPUs, the Dimension 820 uses a 5-core variant of the ARM Mali-G57 GPU. To improve the gaming experience, MediaTek has added HyerEngine 2.0 to provide better graphics performance thanks to smart coordination between CPU, GPU and memory, optimizing network latency.
Like all Dimensity chips, MediaTek Dimensity 820 also has a built-in 5G modem that supports both independent and non-independent Sub-6GHz networks. The modem supports 5G Carrier Set, dual SIM standby, Dynamic Spectrum Sharing (DSS) and new Radio Voice (VoNR) on both SIMs.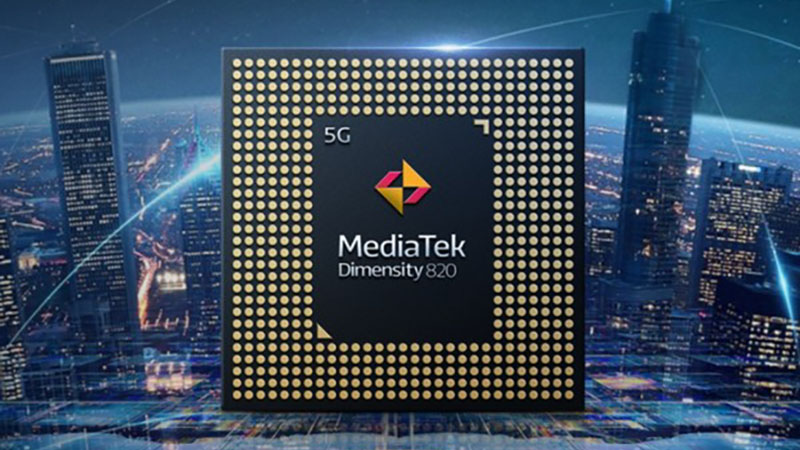 Chip Dimesity 820. (Source: Internet)
Dimension 820 supports a Full HD + display with a refresh rate of 120Hz instead of 90Hz like the old generation. At the same time, MediaTek brings MiraVision display enhancement technology to display lower-resolution content on higher-quality Full HD + screens, as well as HDR‌10 video playback, blue light filtering and better night mode. In particular, the ClearMotion feature that converts 24 or 30 fps video into 60 or 120 fps on supported screens.
MediaTek's Imagiq 5.0 image signal processor supports up to 80 MP camera sensor. While not as attractive as the Snapdragon 768G, Imagiq 5.0 also promises better electronic stabilization (EIS) and supports 4K HDR‌ multi-frame video recording, dynamic background video removal and noise improvement.
Kirin 820 – Best 5G connectivity in 3 chips
The Kirin 820 has gained popularity due to the 5G modem built into it. This allows the chip to support all architectures and 5G frequencies. Therefore, smartphones using Kirin 820 chips can be connected to stable 5G in most areas. The chipset has the highest 5G network speed for fast loading of large files and videos. The Kirin 820 supports the Bandwidth Technology (BWP) technology to make flexible transfers of bandwidth resources with the available 5G bandwidth. Thanks to that, Kirin 820 significantly reduces 5G data consumption and provides a stable 5G experience.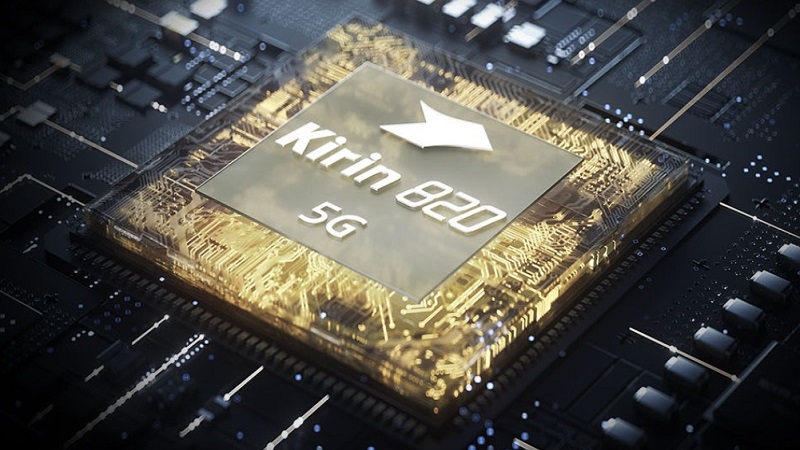 Snapdragon 820G 5G has remarkable power. (Source: Internet)
Artificial intelligence (AI)
Another outstanding feature of this SoC is the Da Vinci NPU which helps AI calculations increase 73%, as well as lower power consumption compared to its "predecessor". Huawei is a leader in mobile AI, so it's no coincidence that Kirin 820 prides itself on AI computing power. In general, the HiAI platform helps developers enrich the AI ​​application ecosystem.
The Kirin 820 comes with an octa-core architecture on the 7nm process, including a high-performance large core, three medium cores and four energy-efficient small cores. Thanks to that, the overall performance is improved by 27% compared to the previous generation. The large and medium cores use the Cortex-A76 architecture but come with a lot of customization. The small cores are customized based on Cortex-A55. Thus for frequencies up to 2.36 GHz.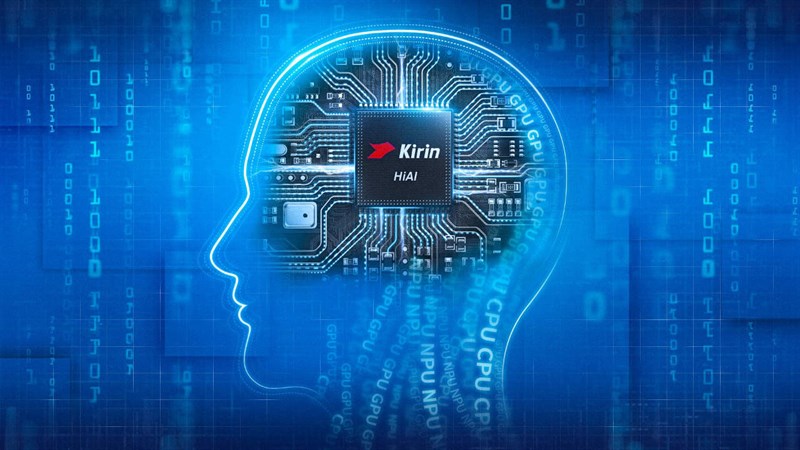 Artificial intelligence is the strong point of Kirin 820 chip. (Source: Internet)
The Mali-G57 GPU inside comes with Kirin Gaming + 2.0 technology to increase performance by 38% and reduce power consumption by 39%, allowing uninterrupted gaming experience. In addition, Kirin Gaming + 2.0 has the ability to learn more than 1 million game frames to improve performance and minimize energy consumption for each image frame.
To take better photos, the Kirin 820 incorporates a 5.0 image processor developed by Huawei, including 3D image noise reduction and video noise reduction technologies for clearer images at night.
Summary
We can see that Kirin 820 and Dimensity 820 seem more like neighbors to each other than rivals. They integrate almost identical components so they will provide an identical performance. In this sense, Snapdragon 768G seems to have prevailed in this battle.
But not many smartphones use these three types of processors. Once they become more universal, the comparison becomes real.
Which chip do you see more potential? Let me know in the comment section below!