The duo OPPO A52 and OPPO A92 The new launch is causing many users to wonder, which device to choose because the price difference is only about  $40. If you are also in that case, please refer to the comparison of OPPO A52 with OPPO A92 to help you make an easier choice.
1. Overall design
In appearance, both models smartphone this is the same (same as the "three measurements": 162 mm long – 75.5 mm horizontal – 8.9 mm thick) with a design monolithic, plastic frame and back.
The layout of the front camera – rear, speaker, microphone, … is exactly the same. You can even use the same case for 2 devices.
Completely similar designs can only be recognized through color
Thus, it can be said, OPPO A92 and A52 are "brothers", only slightly different in configuration and white version. If OPPO A92 is white with blue, then A52 has a lighter color, sacred in turquoise. While the black version of the two devices is almost the same, it is difficult to distinguish even when held in the hand.
Both machines have a glossy, luxurious back, but it's easy to save fingerprints. So I recommend that you always bring the case for the machine to be cleaner, while also limiting the back and scratching the camera.
2. Configuration and performance
Because both are equipped with the same Snapdragon 665 chip, the processor speed is the same. However, OPPO A92 is equipped with RAM up to 8GB and OPPO A52 has only 6GB of RAM, if in terms of multitasking support (opening multiple applications at the same time, switching applications), OPPO A92 is definitely somewhat marginally better.
But you do not need to worry, because Android RAM 6GB is more than enough and OPPO A52 is enough to meet the needs of a normal person (surfing the web, playing games, watching movies, …).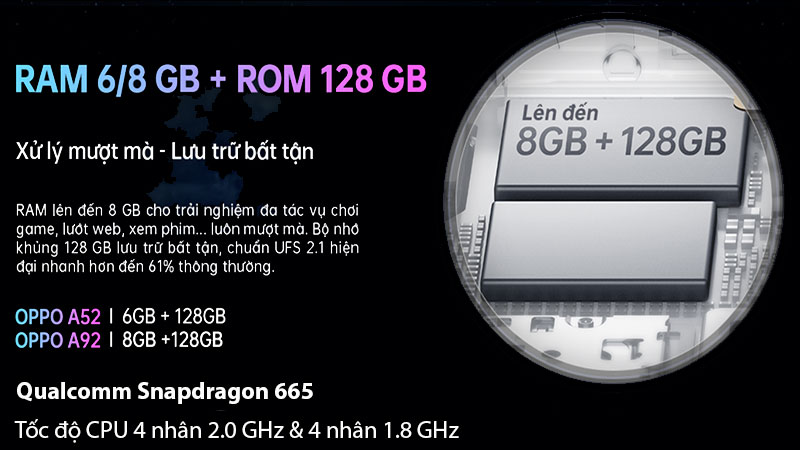 Relatively high performance helps users experience smooth
I tried 2 devices with the application Geekbench 5 and get the result as in the image below:
– OPPO A92 (right): Single-point score is 313, multi-point score is 1359.
– OPPO A52 (right): Single-core score is 310, multi-core score is 1360.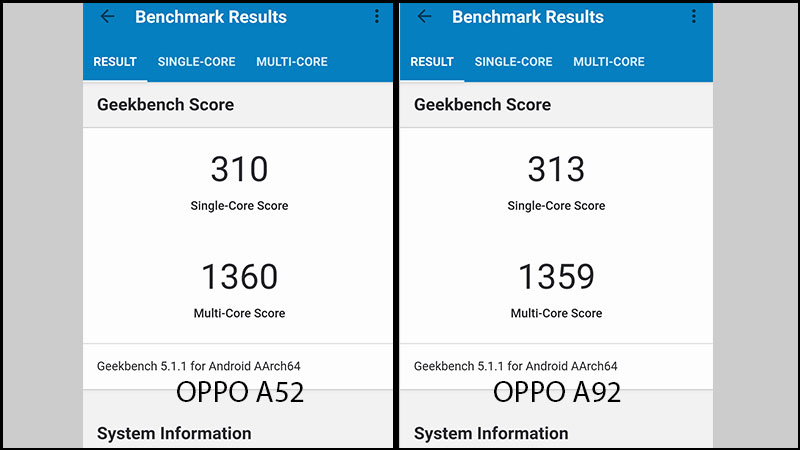 As you can see, the scores of the two devices differ only by a few units (insignificantly), so it can be seen that the processing power of the two machines is the same.
3. Camera
Before evaluating the camera quality of the two devices, I would like to review their camera specs here:
– OPPO A92: Main camera 48 MP, 8MP (119-degree) wide-angle camera, 2MP font-clearing camera, 2 MP black and white camera; 16 MP front camera
– OPPO A52: Main camera 12 MP, 8MP (119-degree) wide-angle camera, 2MP font-clearing camera, 2 MP macro camera; Front camera: 16 MP
Looking at the camera cluster, we can not know how they are different
As you can see, the camera of OPPO A92 and A52 is only different in 2 places (as I have bolded above), this leads to some differences in image sharpness and color. Please take a look at some of the pictures that I have taken on two models.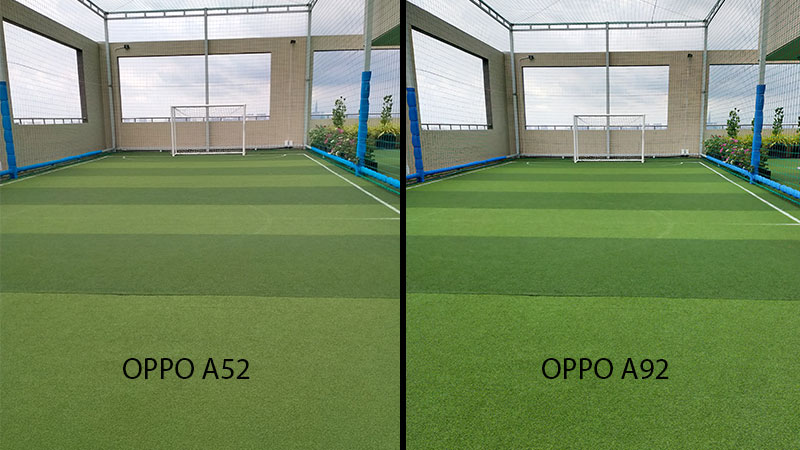 Photos taken in bright outdoor conditions from Camera of OPPO A52 (left) and OPPO A92.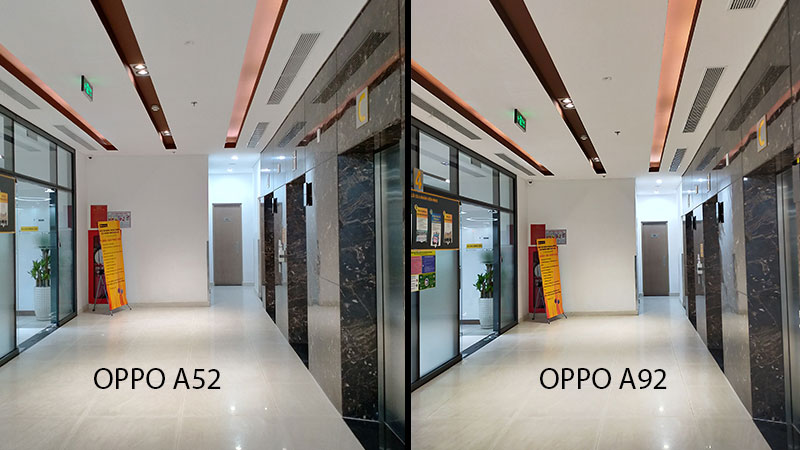 Photos taken indoors (low light) from OPPO A52 Camera (left) and OPPO A92.
Photos taken in low light conditions of OPPO A52.

Photos taken in low light conditions of OPPO A92.
Through the photos above, we can see that the photos taken from OPPO A92 have better parts, bright colors and image detail are better than OPPO A52. That result thanks in part to the parameters on the camera there is a difference between the two devices.
According to my assessment, the ability to process images through algorithms when shooting enough light or low light of both products is not good, the image is a bit blurry. For OPPO A92, the details in the distance can still be seen more clearly than OPPO A52.
4. Features and software
Below, I will list some of the features and software improvements fitted on both OPPO A52 and OPPO A92:
– One-touch fingerprint sensor built right into the power button. I evaluate the unlocking speed of the 2 machines is the same, very quickly!
– Both cameras have a super night mode 2.0, which allows to bring shimmering photos at night.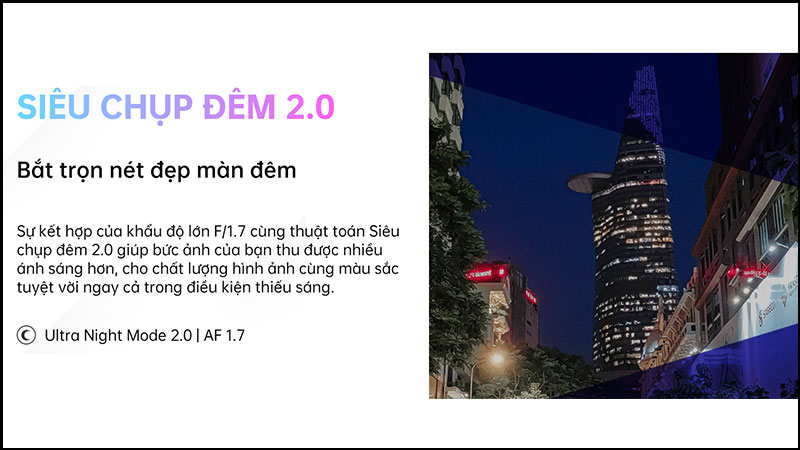 – Tye-C charging port, 5000 mAh battery capacity, built-in 18W fast charging.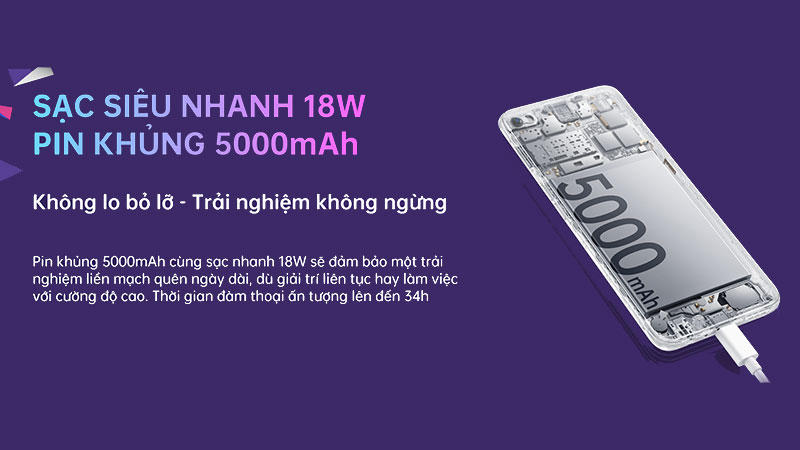 – Brand new O-dot display with smart eye protection.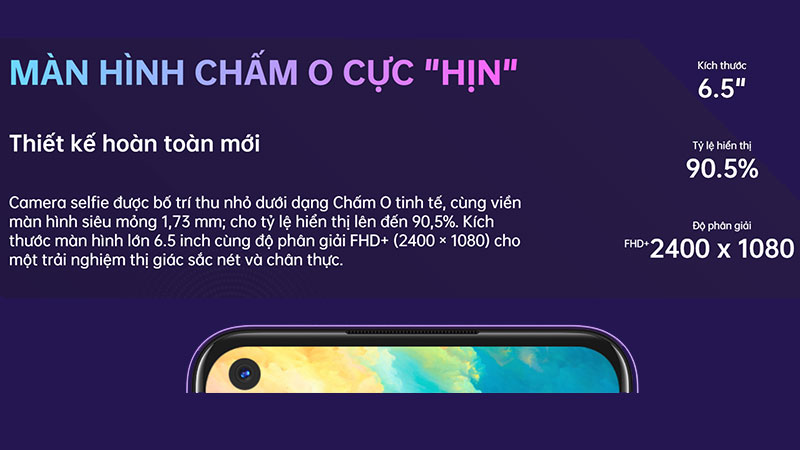 – Dual stereo speaker design, help you listen to music, watch videos, play games more, more realistic and vivid.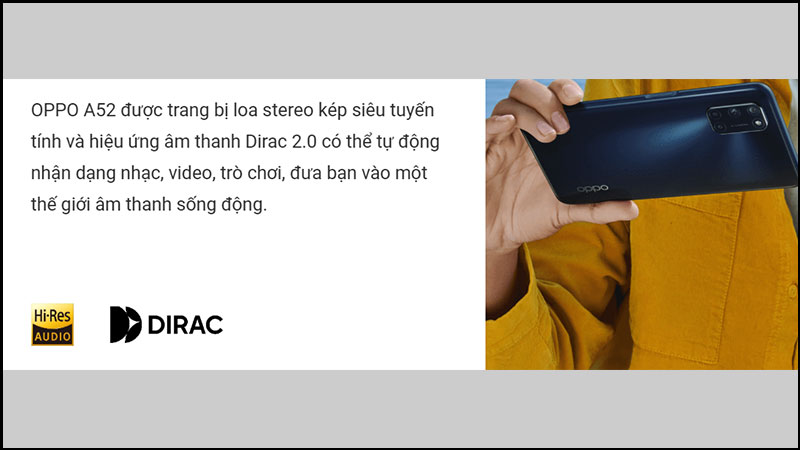 – ColorOS 7.1 operating system (based on Android 10) allows users to select mode Dark Mode, quick access sidebar, responsive full-screen navigation gestures, …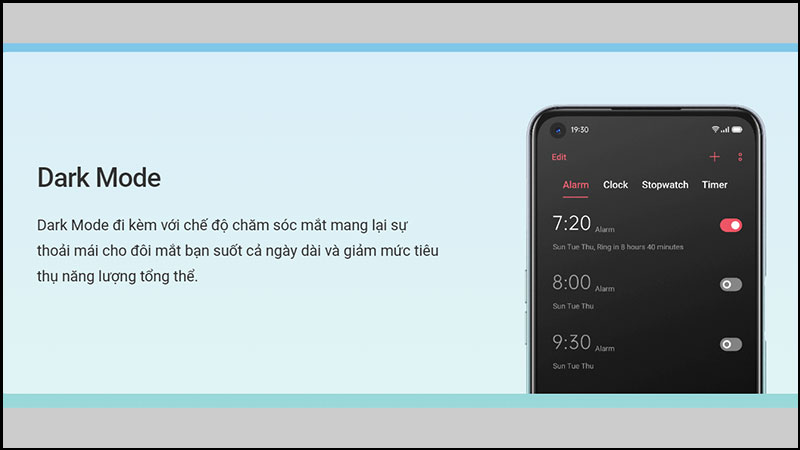 Conclusion:
With a price difference $40, OPPO A92 will bring you more RAM and better camera configuration. Therefore, the device will be suitable for those who want to buy a device and use it for a long time (maybe over 2 years) or want their smartphone to run "delicious" multitasking, switch the "crooked" application tab.
In contrast, with a cheaper price of $40, OPPO A52 still brings the design, 128 GB of memory capacity, processing speed and operating system experience, … similar to its brother. Therefore, OPPO A52 is suitable for a normal user, just need the basic tasks to run smoothly.
In short, if you have enough money, you can buy OPPO A92 right away, otherwise you can buy OPPO A52 because the two devices are not too different, the experience is similar.