You worry about fridge Mixed with the smell when preserving food, causing an unpleasant smell. 3 indoor unit's independent cooling technology Toshiba refrigerator will help you solve this problem. Let's follow the article to better understand the technology of 3 independent indoor units of Toshiba refrigerators and the benefits!
1. Technology 3 independent indoor units on Toshiba refrigerators
– What is technology of 3 independent indoor units?
Technology 3 independent indoor units are designed on these Toshiba's high-end refrigerator line with 3 independent indoor units, with a cooling temperature adjustment function for each individual compartment.
This technology not only helps food to be cooled quickly, better preserved, longer time but also prevents food from being mixed with odors, causing an unpleasant fishy smell.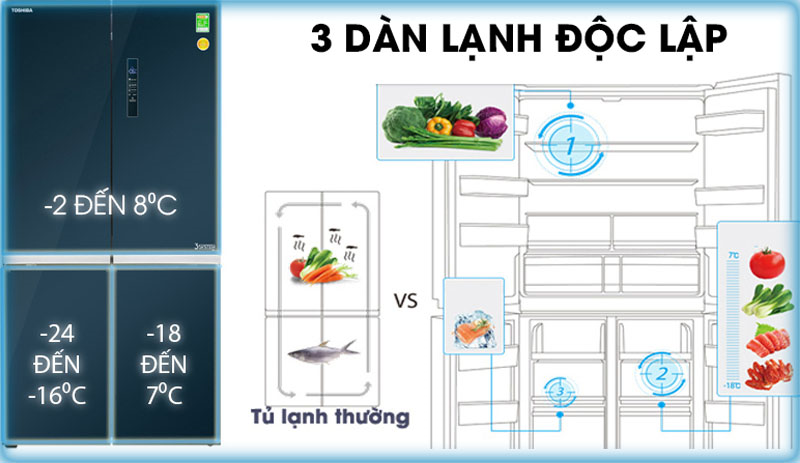 – The use of each compartment
Refrigerator designed 3 indoor units with different temperatures to classify and preserve food effectively:
+ Refrigerator compartment with temperature from -2 to 8 degrees Celsius: This is a cool compartment suitable for preserving foods such as vegetables, fruits, and water.
+ The smart switch compartment has a temperature of -18 to 7 degrees Celsius: This is a compartment you can customize the temperature from -18 to 7 degrees Celsius, convert the freezer compartment into a cooler and vice versa depending on the needs you want to use.
+ Freezer compartment from -24 to -16 degrees Celsius: This is the freezer compartment to help you quickly and freeze fresh foods for long-term preservation while ensuring nutrition.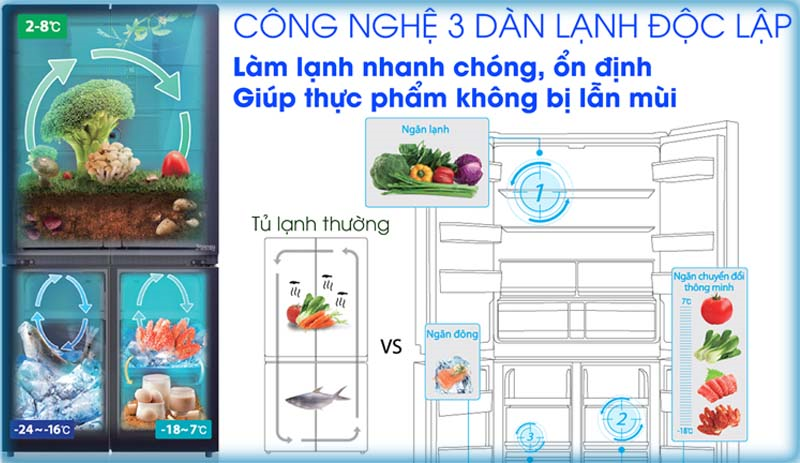 Set different temperature level in each compartment according to usage needs
2. The benefits that 3 independent indoor unit technology brings
– The ability to quickly cool, stable
3 independent cooling technology helps the refrigerator cool quickly and maintain a stable temperature, preserving food that is always fresh.
Thanks to the combination of 3 indoor units, the cold airflow will be evenly distributed in the compartments and every corner of the cabinet, the food will be cooled evenly both inside and outside.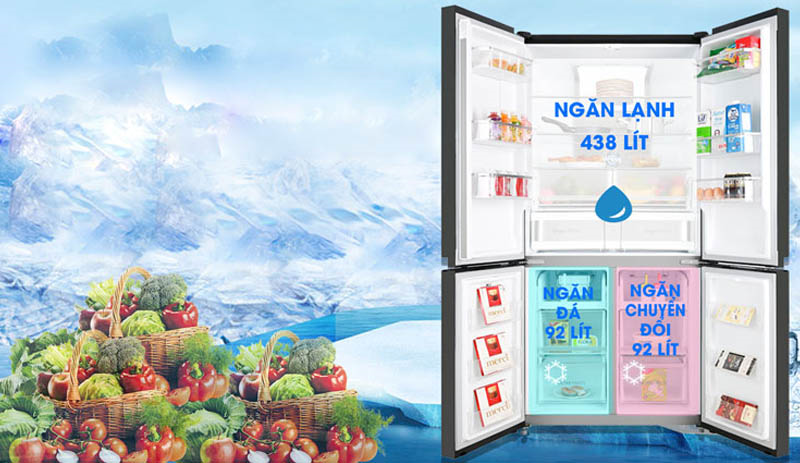 Cool quickly, keeping food fresh
– Help food not to smell
For refrigerators with a single indoor unit, the cold airflow is both responsible for cooling the freezer and cooling the cooler.
The main thing that makes food susceptible to smell, fresh food will be mixed with the smell of drinking water, vegetables, … creating an unpleasant odor for users.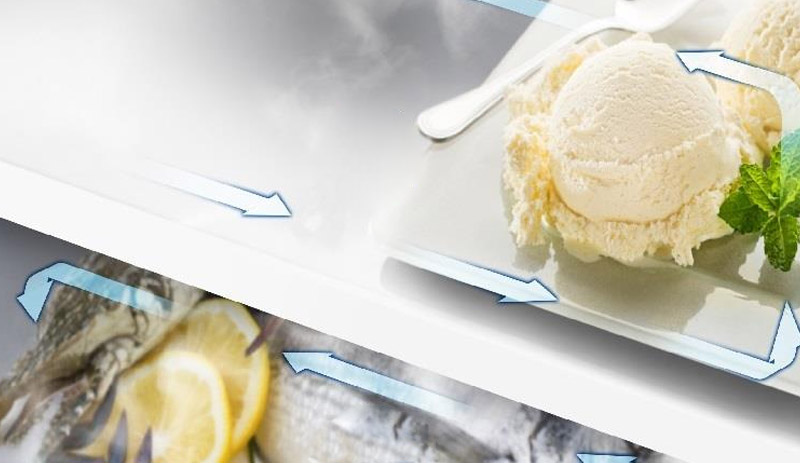 Separate indoor unit design helps food not smells
With Toshiba's 3 indoor unit technology, it completely eliminates this problem. Each separate compartment will have different indoor units, food will not be mixed with other compartments.
– Ability to adjust temperature flexibly
Toshiba refrigerators offer users a smart and handy feature Convert Zone smart converters.
This container allows users Change the temperature from -18 to 7 degrees Celsius, to use as needed.
The flexibility of conversion gives you more space to add more vegetables or freeze fresh foods to serve delicious meals for the family.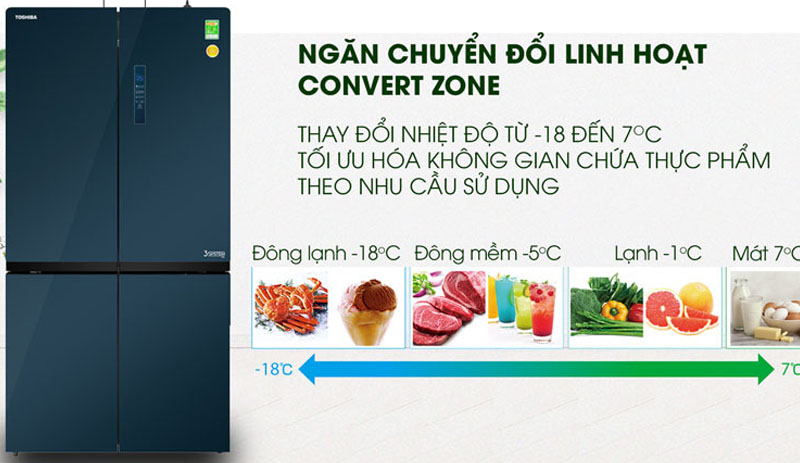 Flexible temperature changes depending on the needs of use
– Preserving food with soft freezer compartment
The freezer compartment is integrated in the Convert zone when you customize the level temperature at -5 degrees Celsius.
This temperature helps you soften fresh fish meat to use during the day without spending time thawing.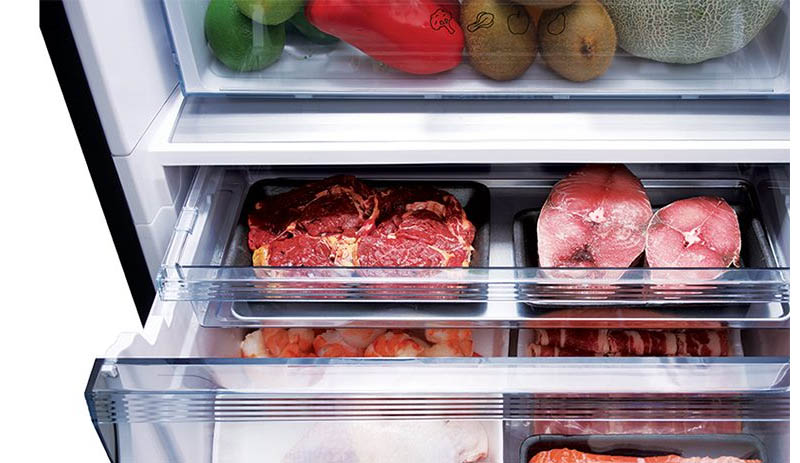 The freezing of food not only helps you shorten cooking time but also keeps the freshness and necessary nutrients.
– The ability to moisturize fruits and vegetables
3 independent indoor technology to adjust the temperature in the cool compartment to help create good moisture and moisturize vegetables, fruits, .. bring you fresh, shiny and nutritious food .
The cool compartment with the right temperature helps to create good humidity for vegetables and fruits
3. Toshiba refrigerator products feature 3 independent indoor units
You can refer to the product line of Toshiba refrigerators owning 3 independent indoor units being traded at Dien May Xanh as: Refrigerator Toshiba Inverter 622 liters GR-RF690WE-PGV (24).
Products updated on 06/03/2020, may change at another time.
Hopefully the article gives you useful information about the line of 3 independent refrigerators for Toshiba. See you in the following articles.